What are the big design trends hitting the Northeast in 2024? The interior design trends of 2024 are all about sophisticated luxury and those special touches around the home that just feel opulent. Find out what this means for every room of your home with advice on how to use them to create high-end spaces that are timeless and tasteful during your 2024 home remodel.
1. Sculptural Pendants
Sculptural pendant lights are captivating design aficionados with their harmonious blend of whimsy and refinement. These fixtures, with their sinuous profiles, effortlessly command attention, infusing spaces with theatrical flair.
Drawing inspiration from celestial orbits, enigmatic forms, and ethereal silhouettes, these pendant lights introduce avant-garde style to overhead spaces. As curved designs continue to dominate both architecture and furniture landscapes in 2024, it's evident that sculptural lighting is poised to complement and elevate these trends in a symphonic dance of design.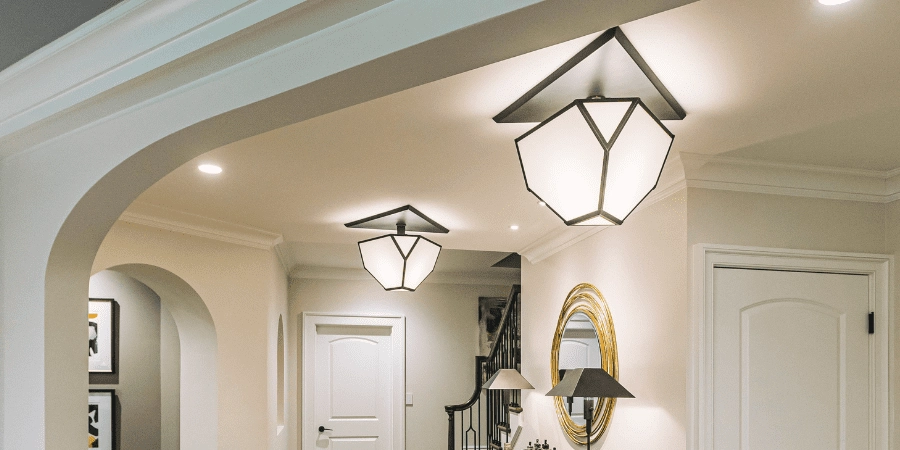 2. Architectural Features
Archways and alcoves had a strong comeback in the past couple of years. In 2024, they're being joined by even more architectural details that play into the sophisticated luxury trend. Imagine custom-milled window trim, door casings, and even decorative pediments over your interior doors. To keep them understated, paint the trim and pediments the same color as your walls.
Statement ceilings, large but tasteful fireplace mantles, wainscotting, ceiling medallions, picture rails, and built-ins are a few examples of architectural accents that will add personality to your home. Use them wisely so as to not visually crowd your space.
3. The Resurrection Of Dark Furniture
In the realm of interior design, the revival of dark wooden furniture signifies a yearning for timeless elegance amidst fleeting trends. This shift towards tradition champions spaces that radiate warmth and enduring charm. The rich hues of dark wood not only enhance ambiance but also celebrate opulence and sophistication. Crucially, this trend welcomes treasured solid wood antiques, allowing these unique relics to shine as centerpieces, seamlessly blending tales of yesteryears with modern aesthetics.
4. Curved Furniture
It's simple: furniture with straight lines is commonplace; whereas curved furniture feels more exclusive and custom. This hard-to-come-by appeal has an air of exclusivity and let's face it, if something feels exclusive, there's a good chance it will also feel like a luxury. Curved sofas have been growing in popularity but not necessarily in availability.
The soft lines of curved furniture feel inviting, giving your home warmth and softness. Many curved sofas and chairs are available in lighter tones, like cream, dusty mauve, light blues and greens, and soft yellows, which fit perfectly into 2024 furniture color trends. If curved side tables and credenzas are more your style, go for a darker color, like jewel tones or solid wood in a dark stain.
5. Custom Drapery with Trim
Much like curved furniture, custom drapery gives an air of luxury just by the notion of exclusivity. This is especially true of custom curtains with trim. We're not talking about your grandmother's curtain trim. The 2024 fans of luxury are using more contemporary and stylized trim that communicates a modern touch.
Keeping trim simple, monochromatic, geometric, or understated will help to keep from appearing fussy and help your curtains remain relevant and en vogue for much longer. So next time a visitor says, "Where'd you get your drapes? They're fantastic!", you can nonchalantly reply, "They're custom-made."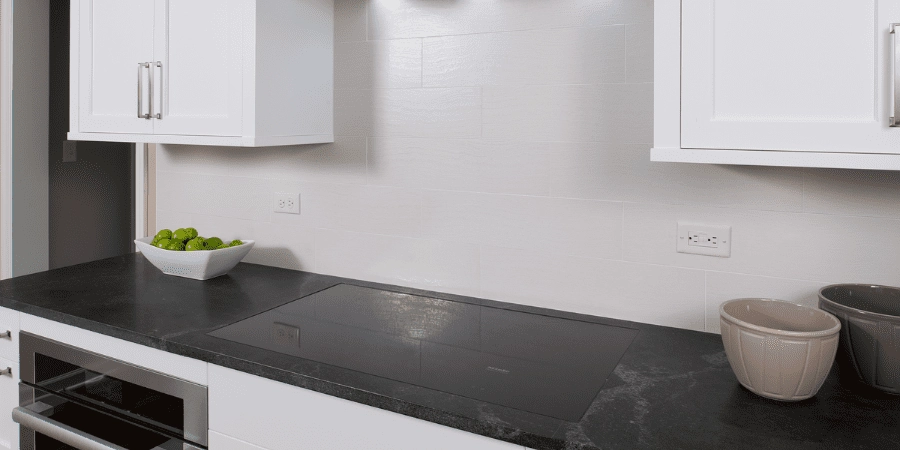 6. Storage Galore
Storage isn't the sexiest luxury feature on this list, but the spaces that offer the most storage can be. Just a few years ago, butler's pantries had a strong comeback, but they were treated like a large pantry. This is to say, not a lot of love or high design went into their rebirth. Now, butler's pantries are sporting high levels of detail, luxury finishes, and bold color palettes. In fact, the butler's pantry is now akin to jewel box bathrooms, where bold design choices are encouraged.
Mudrooms are also on the rise, and in 2024, more custom than ever. Don't settle for prefab storage cubbies and cabinets. Invest in all wood, hyper-custom storage throughout the space. Use a built-in bench for seating or make the design of this space even more personalized with a vintage bench.
7. Induction Cooktops
What makes induction cooktops a luxury detail? It's more along the lines of how induction cooktops can make other high-end materials take center stage. By replacing a big, clunky appliance with a sleek and discrete cooktop, you can carry your cabinets clear across where a bulky range would typically be and your beautiful countertops aren't overpowered by the visual business of a gas stove.
There's also the safety aspect, which helps you avoid burns, smoke, and harmful toxins infiltrating your indoor air. Induction cooktops utilize magnetic fields for cooking. While high-end induction ovens boast features like convection and WiFi connectivity, basic models maintain standard amenities. These cooktops are eco-friendly, outperforming traditional electric and gas stoves in energy efficiency. Their unique design ensures safety; the cookware generates heat, keeping the surface cooler. This results in precise, even cooking, streamlining meal prep. Additionally, their smooth surfaces facilitate easy cleaning.
8. Zellige Tile
Zellige tiles, reflective of Moroccan craftsmanship, are uniquely irregular, and handcrafted from indigenous clay. Rooted in 'zelij', an art mosaic, they historically embellished spaces with vibrant patterns. Now globally sought-after, they've adorned chic interiors and are only growing more popular, especially when it comes to bathroom and kitchen trends in 2024. Genuine Zellige, made exclusively from clay, exudes a radiant sheen. Installed contiguously, they merge tradition with modern elegance, ideal for luxury remodeling.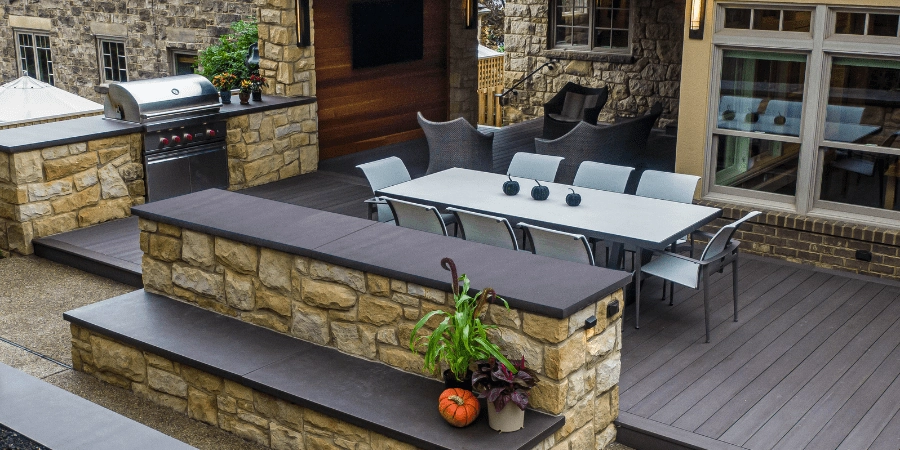 9. Outdoor Kitchens with Dining and Lounging Areas
The outdoor kitchen craze continues into 2024. What makes this outdoor feature a luxury staple is the level of customization in these spaces. With outdoor kitchens becoming a mainstay, more high-end appliances and features that are made to withstand the elements are going into these chef-worthy spaces.
Up your outdoor game with stone countertops, a bar with an ice maker and wine cooler, and anything else you'd need to completely avoid having to run in and out of the house for everything little thing. From the outdoor kitchen, your outdoor oasis should flow into a dining area and lounge area for excellent hangouts, late-night gatherings, and family celebrations.
Get a Luxury Space with a Luxury Remodeler
Not just any remodeler will have the experience and design knowledge to pull off the sophisticated luxury trends of 2024 for your Pittsburgh home. The trick is to also choose design elements that communicate timelessness, so your space will continue to be stylish for several years, rather than just a couple.
Master Remodelers is an award-winning high-end remodeler with an architectural designer on staff. This sets us apart from standard design-build firms, and you can see it in our work. To experience the ease of the design-build method with the high-end design skills your space needs, contact Master Remodelers and schedule a consultation.