STEP 1: First We Talk, and Listen.
At our firm, effective communication takes precedence. Our experienced design build team member will engage in a conversation with you to gain an understanding of your vision, needs, wants, budget, and timeline. We recognize the significance of comprehending the challenges and issues you desire to address in your home.
What's the Outcome?
A clear understanding of what to expect from us. It is perfectly fine for either party to determine that our firm may not fit your project. However, if we are the right match, we will schedule an in-home consultation. If at that point you wish to engage our services, we will formalize the design agreement for your signature. This agreement will mark the official beginning of the design build feasibility process.

STEP 2: Design Build Feasibility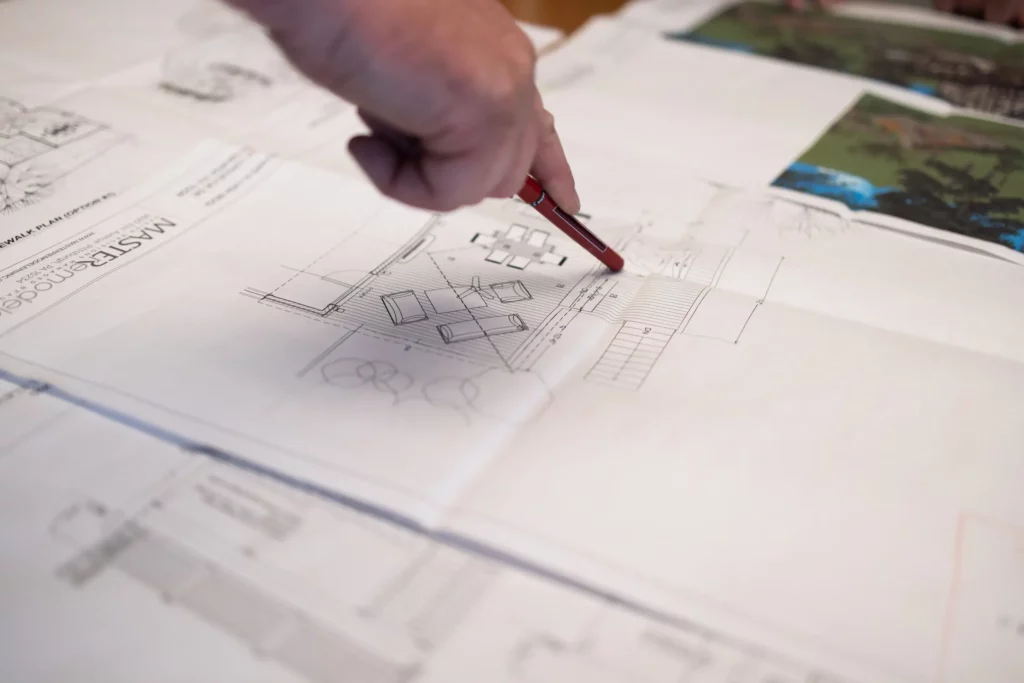 Design Phase One:
We understand that your project is unique, so we start by gathering as much information as possible. To succeed, we need to thoroughly understand your goals and determine the project's overall feasibility. Our Phase One deliverables are conceptual schematic drawings, site conditions and/or issues analysis, preliminary floor plans, and 3D renderings.
Based on your feedback, we refine the preliminary designs; matching the design goals to your forecasted budget. The number of design iterations depends on the client and project.

Design Phase Two:
Once we have a mutually agreed-upon design, we will further evaluate the project's constructability while continuing to develop it with product and material selections. Understanding the project's constructability requirements ensures that proper and sustainable construction means and methods are aligned with the budget.
Our team utilizes design build tech tools that provide the visuals you need to understand the possibilities for your space; comprehend costs; clarify budgets; and identify any structural concerns while forecasting realistic timelines.
We offer preliminary product discussions; complete structural assessments; and home performance evaluations. We work with surveyors and engineers as necessary, to adhere to municipal regulations and create construction timelines and early cost projections.
If the projected cost is more than you're comfortable with, we can adjust either the design or the scope of the work. We value your time and budget, so we only move into Step 3, Cost Analysis, once you have a clear idea of what you want; love the design; have trust in our team; and are comfortable with early cost projections.

What Makes It Happen?
Our architectural designer and production team visit your home for an in-depth consultation and measurements, typically more than once.
Once we clearly understand the scope, our talented architectural designer will create detailed, buildable plans and full-color 3D digital imaging to help you visualize the new space and how furniture will fit.
With these tools, we can provide you with a clear picture of how your new space will look and function, ensuring that your vision is brought to life.
The more detailed your plans are, the more accurate the next step: your Cost Analysis (and, eventually, your fixed-price construction contract).
STEP 3: Cost Analysis
(You may have heard this called an estimate, but we call it a Cost Analysis).
At Master Remodelers, we don't provide estimates or guesstimates. We offer a comprehensive Cost Analyses that gives you a precise understanding of your project's expenses.
To achieve this, we carefully consider your architectural plans, site conditions, and our 35 years of design build experience plus a proprietary data bank of project cost analytics. Our team formulates construction strategies, documents the scope of work and creates detailed cost projections. The resulting Cost Analysis document is an informed outcome that empowers you to make budgetary decisions based on the project's scope and costs.
Our clients praise us for delivering the most detailed cost analyses and architectural plans they have ever seen. With our expertise, you'll be better positioned to make informed decisions about moving forward into construction with a fixed-price contract.
How We Get There
A clear scope of work and a detailed architectural design plus 3D images that you'll love.
Understanding of the site conditions and potential challenges. This helps us provide you with a comprehensive and tailored solution.
To avoid surprises, we'll help you determine your tastes and preferences in selecting appliances, materials, and finishes. By doing this, we can ensure there are little to no change orders after the construction contract is signed.
STEP 4: Construction Prep
You have signed the fixed-price construction contract, marking our formal commitment to work together to make your vision a reality. The architectural drawings are progressing with increasing detail, and we are diligently establishing timelines and scheduling workflows to ensure a seamless execution of the project.

You will now be able to track the progress of your project from your private customer portal and have frequent conversations and meetings with your design and production team. Our Architectural Designer and Lead Carpenter will order materials and schedule delivery dates to keep construction timelines on track.

We take pride in our in-house management, production crew, and our relationships with talented and trusted trade partners including engineers, energy and sustainability specialists, and interior decorators. They are an extension of Master Remodelers and have helped us deliver exceptional results to countless clients.
How This Happens
Our in-house Architectural Designer will guide you through all the selections to make your space comfortable, healthy, and lively
The Production Manager, who has been involved with your project from the beginning, coordinates with the carpentry staff and trade partners to ensure your project is be scheduled efficiently and poised to perfectly executed.
STEP 5: Construction Begins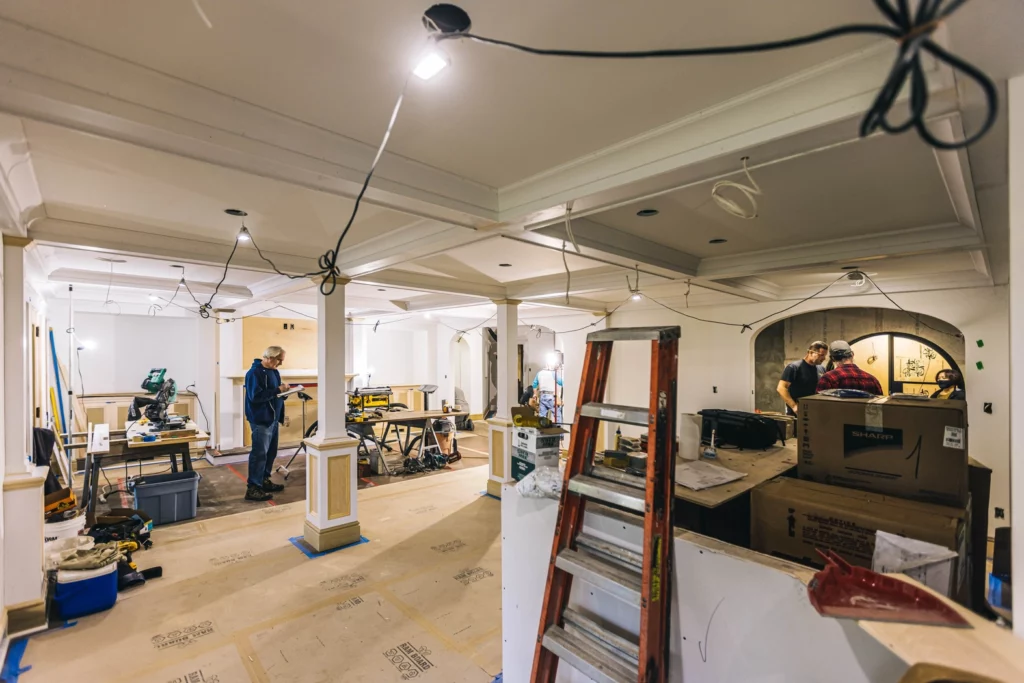 Starting construction is a truly memorable day. Our talented and professional team arrives at your home, commencing work in a safe, organized, and tidy manner. Having worked hard to plan everything, there are few loose ends left. You can sit back and let us manage the process. Consistency is key to success. The team you met with initially to discuss your project continues to work with you as you move to construction. With Phases Two and Three, we benefit from advanced lead time.
What Helps It Go So Smoothly
Our Design Build process empowers us to be agile in scheduling and ensures effective project management. This approach enhances our ability to meet deadlines and maximizes efficiency throughout the entire project lifecycle.

Your Lead Carpenter will coordinate all work and personnel, arrange for inspections, follow plans, interact with you, and update the schedule daily.
You have complete control via our online customer portal, with every project detail available to you 24/7. Daily progress photos and product selections are included, so you can stay updated easily.

STEP 6: Post Construction Back-Up & Customer Service
Our commitment to our clients transcends the completion of construction.
We ensure that any necessary adjustments are made for you to settle into your new, perfected surroundings. Anticipating minor issues as a house settles, we reach out to you six months after completion to schedule warranty service. Our promptness and attention to detail is backed by a two-year warranty on our construction, and our unwavering commitment to customer satisfaction is unparalleled.
Why?
Our reputation for high-quality customer service has been the hallmark of our success and growth. Our goal is to create lasting relationships with our clients and become your Design Build partner over your lifetime.