Kitchens are getting a major transformation in 2022, with big shifts in color, layout, and even location. If you're remodeling your kitchen or your entire home, these trends should be at the center of your design decisions.
Cabinet and Wall Colors
Earthy green is the color of 2022. Every major house paint brand released their Color of the Year in shades in green that are earthy, muted, and perform more as neutrals. These quiet, soothing shades are the go-to colors of 2022 because they incite calm, hope, and rejuvenation, according to psychologists.
These earthy hues will be on everything from walls and rugs to furniture and cabinets. In the kitchen, cabinet colors are showing up in calming shades of blue as well. From soft green blues to the deep navy in a matte finish, designers are using these shades as compliments in the kitchen as opposed to an all-over color choice.
Use matte navy blue on the island cabinets, for example, and a neutral green hue on the perimeter cabinets. Some designers may instead opt for painting the upper cabinets a creamy white while adding color to the lowers. Applying color in this way gives the space a more personalized and custom feel rather than mass-produced.
Backsplash & Countertops
The 2022 kitchen trends center around using more materials but in a very strategic way, so as to still appear polished and not busy. With this in mind, the kitchen trend for countertops is to top the island and the perimeter cabinets in different but complementary materials. For example, a chopping block on the island and quartz on the perimeter countertops.
As for the backsplash, designers are using slabs as opposed to tile. Trends are moving toward using the same material as the countertop and continuing the material upward. As for the material being used, marble is still a popular choice, but quartz is rising in popularity. Quartz is more sanitary, which is attributed to its non-porousness. Also, because manufactured quartz is a made material and not mined, you will have more control over the colors and patterns you choose for your home.
Custom Storage
Storage in the kitchen is becoming more and more personalized and custom than before. As everyone spent more time in their kitchens over the past two years, the functionality of the kitchen has been heavily scrutinized. Without as much dependency on take-out and restaurants, and more time to cook and bake from scratch, the ways a kitchen isn't working became apparent quickly. Pittsburgh restaurants are bustling once again, however, the new kitchen gadgets that have accumulated over the past couple of years aren't going anywhere and need proper storage places.
Custom cabinetry that meets your specific storage needs will make cooking at home more enjoyable. Lower cabinets with pull-out shelves, cabinets with outlets situated right inside for small appliance ease of use, and drawers with dividers for lidded containers. With less clutter on the countertops and more organization in the cabinets, the kitchen becomes more of a place of style and enjoyment than utility and stress.
Island Upgrades
The kitchen island is nothing new, however, it is getting a makeover in 2022. Remodelers are seeing more requests for the double kitchen island. This is, homeowners, desire more space in the kitchen for more than one person. Designers are also seeing kitchens with two sinks, much in the same way a master bath will have a double vanity. The second sink in the kitchen, however, is usually a smaller one for jobs like filling pots or rinsing vegetables.
Outdoor Kitchen
The past couple of years has taught us how to really appreciate the space we have. That trend has continued into 2022 in the popularity of the addition of the outdoor kitchen. Outdoor space for preparing, cooking, and enjoying meals with friends and family is trending and with good reason. Designers and homeowners are including outdoor entertainment spaces in their new and remodeled homes to extend the footprint of the home without having to employ major renovations. The outdoor kitchen can include a built-in grill, refrigeration, storage, and more with the right planning. This outdoor kitchen space can even extend off of your indoor living area to make the most of the space you already have.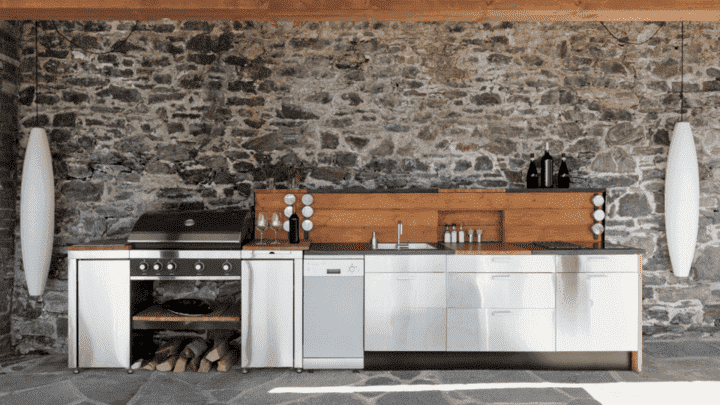 Remodeling Your Pittsburgh Kitchen
Kitchen remodels are a sizable project that should be put in the hands of trusted professionals.
For more than 30 years, we have been specializing in luxury remodeling projects and aging-in-place universal design for discerning homeowners who enjoy the customized, lifestyle-based design of the highest order.
Contact Master Remodelers to discuss your kitchen remodel and more.