Design-Build: Why You Need It and How Much Does It Cost?
The design-build method comes with a whole host of benefits that far surpasses the capabilities of older building and remodeling methods, such as design-bid-build. Your Pittsburgh home remodel doesn't need to cost more than it should or face unnecessary delays. We're going to break down what factors influence the cost of a design-build project so you can feel confident moving forward with a reputable and experienced design-build team for your home remodel.
How Much Less Does Design-Build Cost Than Design-Bid-Build?
On average, you will save at least 6% in costs when you choose the design-build delivery method, according to a Penn State study. Depending on the cost of your remodel, this could amount to tens of thousands of dollars.
What Makes Design-Build Different?
To understand why design-build costs less than other remodeling delivery methods, it would help to first understand what design-build means. Put simply, design-build includes your designer and builder from the very beginning of your project. The most efficient model will include the two professionals working within the same company, alleviating you from having to interview and hire multiple professionals. Your design-build team will collaborate with you to understand your design goals, your home's challenges, and come to feasible and cost-effective solutions together.
By having all the necessary parts of your remodeling team working together from the very start of your project, you'll save time, costs, and energy.
Why Does Design-Build Cost Less Than Other Methods?
The design-build delivery method is far superior to the older design-bid-build method in every conceivable way. What exactly makes design-build the premium choice for your remodeling project?
Streamlined Process
With design-build, you'll be able to enjoy a streamlined process that is rooted in protecting the integrity and clarity of your vision, home performance goals, and the important details within the architectural plans that organically and systematically develop. With your builder and designer working on the same inhouse team, design solutions can be achieved quicker, your budget will be finalized sooner, and your design vision will be feasible and cost-effective from the start.
With the design-bid-build model, the bidding phase relies on donated time by random contractors who are asked to supply estimates as quickly as possible. These contractors are coming to the table not fully understanding your vision or preferences for upcoming product selections and they are making a lot of blind assumptions about your individual tastes and preferences for products that will be chosen further along in the process. Random contractors typically low-ball their budget with the goal of winning the job by providing the lower or lowest bid. This important caveat is the beginning of setting up yourself up for massive change-orders which result in time delays, budget overages, and finger-pointing.
In contrast, the design-build model provides you the assurance that your design choices, vision and costs are accurately portrayed from the start and within a fixed-price contract.
Improved Communication
Improved communication makes for a more efficient and transparent process, thereby, avoiding costly mistakes. When your remodeling team is already familiar with one another and has established lines of communication, misunderstandings, and conflict are easily avoided.
The traditional remodeling method, or design-bid-build, will likely include professionals that aren't as familiar with one another, if at all. Professional styles can differ, availability to meet and discuss can become an issue, and expectations may not be clearly understood. When this occurs, costly miscommunications can occur, driving up your final price and delaying your project.
Accurate and Current Pricing From the Start
When your builder and architectural designer are collaborating during the design phase–rather than bringing your builder onto the project after the design is complete–you will have accurate and current industry costs for materials and labor. With the design-bid-build method, your builder won't be part of the design phase, opening your project up to feasibility errors and inaccurate costs. This will result in either a delay to revise the plans to fit within your budget or moving forward with the design as is, even if the material and labor costs exceed your budget.
With the design-build method, your design will be feasible and appropriately priced, while achieving your design goals with cost-saving solutions. The design-build process will give you confidence going into the construction phase, knowing that your price will be final.
Single Source of Accountability
Problem-solving is a strength of the design-build method. Both your builder and your architectural designer, working collaboratively within one team, have your budget and design as the central focus. If an obstacle arises, there's no conflict or blaming because they are a unified team. Any issues can be assessed and solved quickly, without conflict or delay..
You'll also benefit from having a single point of contact: your project manager. And, with the benefit of construction management software, you will get job updates, progress photos, files, schedules, and communication in real-time. It's an excellent way to stay in the loop about progress, without having to send multiple emails or leave phone messages, not knowing who will be able to address your concerns or answer your questions.
Time Is Money
Not only will you save on costs, but you will also save time. When your builder and architectural designer are working together from the beginning, you're skipping the stressful bidding process, you will require fewer design revisions, and your project is far less likely to encounter delays. If your home remodel requires an alternative living arrangement, reducing the time of your remodel will reduce your living arrangements costs.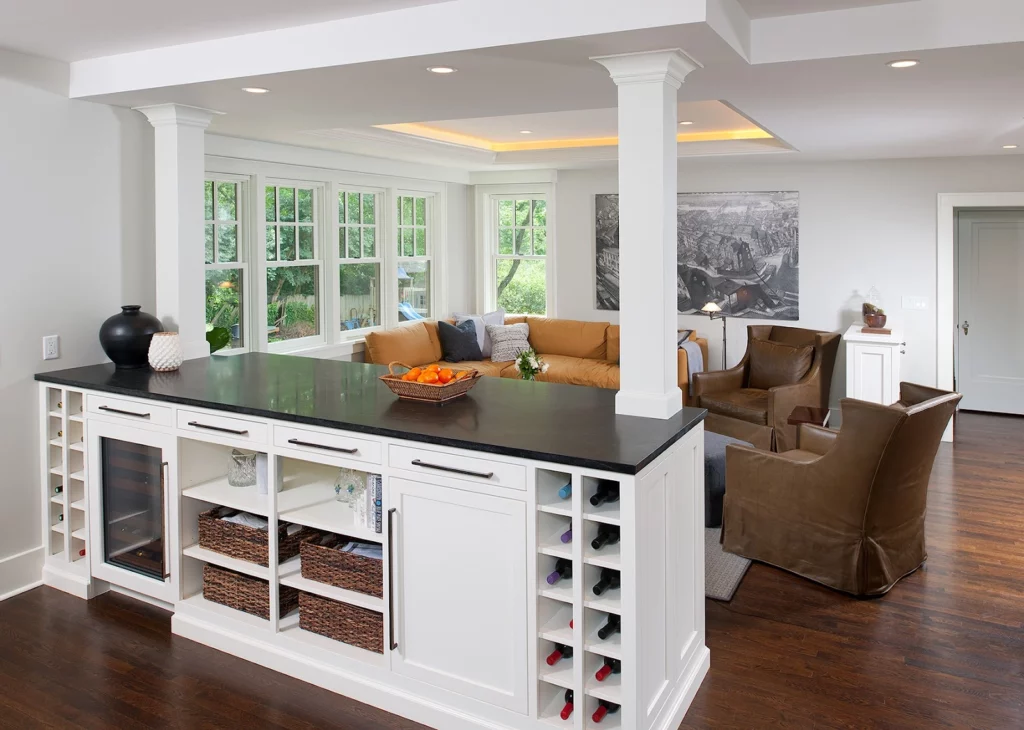 Hiring a Design-Build Firm in Pittsburgh Makes Good Sense
The design-build method saves costs and time while giving you peace of mind and a quicker remodel. What's not to love? At Master Remodelers, we know that your budget, timeline, and design goals are at the center of the entire process. That's why our design-build process revolves around your goals for your Pittsburgh home remodel. We know you likely have more questions about our process and our experience creating gorgeous home remodels within budget and using only the highest-quality craftsmanship, so reach out to us today to schedule a consultation.