Not everyone's style fits neatly into a category. You may really enjoy a modern farmhouse, but with contemporary iterations of Victorian and old-world details. How do you communicate this and other design styles to your design build firm or contractor? Whether you're just starting out on finding the best contractor or designer for your project, or you've already hired a team, it's a great idea to have a plan for communicating your unique style.
How Do You Communicate Design Ideas?
When you're talking to friends and family about your remodeling goals, communicating might feel easy. Communicating with an industry professional, however, requires a more refined approach. There are a few tips to follow that can make communicating your design style to a design-build firm easier and more precise.
Study Up On Terminology
Do you know the difference between mid-century modern, modern farmhouse, and contemporary? If you're using specific industry jargon when communicating with your design-build firm, you will want to get it right. For example, if you use the term 'craftsman' but you really mean 'bungalow' you and your designer will be on different pages. This could cause delays during the design phase.
This isn't only specific to style terms, but with any design element you will want to reference. Learning a bit more terminology will help you be more specific with these as well. Instead of saying you'd like brackets, for example, you might actually mean corbels. Or, instead of saying you'd prefer modern cabinets, you can be more specific with shaker style.
To ensure that you're using the proper names of styles and design elements, look them up online. Make sure that the mental picture you're painting for your design build firm is as accurate as possible.
Use Visual Aides
Using the correct terminology is a great start and gathering visual representations of what style you're going after is even better. Shaker cabinets come in different styles and corbels can be simple or very elaborate. So, using images is the best way to communicate your specific style and the elements you'd like to include in your Pittsburgh home remodel.
Finding photos of style ideas for your remodel is almost too easy nowadays. The Houzz and Pinterest apps are just two popular go-to tools for all things visual and make for very convenient places to amass ideas and sift out the best. Of course, there are also plenty of interior design magazines, online and in print, and simply taking pictures of friends' and family's homes.
No matter where you source your images, another benefit of using visual tools to communicate your style ideas is the ability to create a resource bank. Send images to your design-build firm rather than trying to describe your ideas via email or phone.
Keep in mind that the more you collect before designing the project, the less research you'll have to do while the clock is ticking. Once consultations and design are underway, you don't want to be the cause of a delay because you've just found a feature you hadn't seen before and suddenly can't live without. With the seemingly endless amount of design and style decisions you'll be making with your designer, it's never too early to start gathering ideas.
Follow Their Lead
You might feel a sense of urgency to communicate everything right away. After all, you're excited about revamping your home! Before laying out every detail quite yet, get familiar with your design-build firm's process. Your contractor will need certain information at different times during the consultation and design discovery phases. Get a good understanding of their roadmap so you know when your design goals will be most needed.
When it comes to remodeling, it might help to work subtractively first. In other words, during your in-home consultation, you'll point out what's not working and what challenges your space is presenting. After that, you'll be asked to describe how you'd like the space to work for you instead.
Before getting down to your style and remodel ideas, you'll need to provide a budget. After your design-build firm has a budget to work within, they will be able to inform you of what design goals are possible as you're brainstorming solutions to the challenges of the space.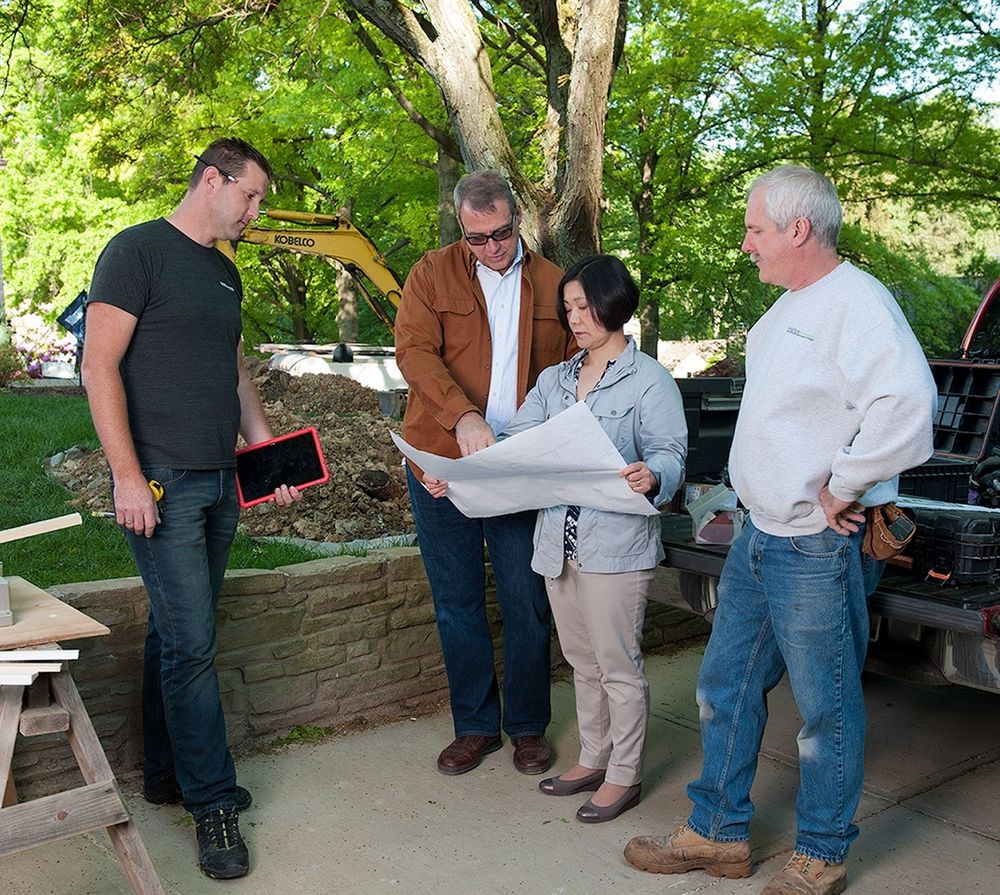 Check-In Frequently
Even after you've had a great design meeting with your design build contractor or designer and you're feeling confident about your communication, you should follow up. Don't be shy about checking in and asking a lot of questions during your meetings. If something isn't perfectly clear to you in a drawing or otherwise, it's best to ask about it as soon as possible. If you give them the benefit of the doubt, you may end up with a design or product choice that's different from the one you intended.
Communication is integral to the entire process. For this reason, it should be one of your top priorities to ask any potential contractor what avenues of communication are available and if a point person will be available to you.
Make Sure Your Design-Build Firm or Contractor Is A Good Match
Even when you've done your homework, gathered ideas, and stayed on top of communication, all might be for naught if the design-build firm or contractor simply wasn't a good match for you or your project from the start. This is why choosing your contractor is such an important step. You'll want to ask for referrals, read reviews, view portfolios, and interview several before committing to a contractor for your Pittsburgh remodel.
The team at Master Remodelers knows that the communication between a homeowner and the team is the pinnacle of a successful project. This is why great care is taken to make sure that communication lines are open from the very start. Homeowners are taken through a thorough consultation process to ensure every issue and desire around your remodel is being understood. If you'd like to discuss the design goals for your home remodel, contact Master Remodelers for a consultation.