The 2023 interior design trends are all about playing with textures, colors, and patterns that speak to your personal style. Forget the white on white on white of decades past. In 2023, we're finding our comfort zone in rich colors, striking statements, thoughtful details, little indulgences. What are the top interior design trends for 2023? We're glad you asked.
1. Jewel Tones
Jewel tones are the color palette of 2023. Emerald, sapphire, amethyst, and ruby are absolutely everywhere. From glossy ceramic tiles, lush upholstery, wallpaper, rugs, and even tableware, you'll find jewel tones in both solid colors and sophisticated patterns. There's a jewel tone for everyone and every color scheme. Work with your designer to choose a tone that works with the overall design and color palette you desire. Pairing a jewel tone with a neutral can either make it pop or become subdued, depending on what you choose.
2. A Statement Backsplash
No longer is the kitchen backsplash an afterthought. The backsplashes of 2023 are bold and bring their own personality to the table. A marble backsplash with heavy veining is striking, while a ceramic tile backsplash with a geometric pattern is lively and dynamic. With so many options, we suggest telling your designer about your personal tastes and design goals. A skilled professional will be able to point you in the right direction.
3. Black Accents
When you want a little drama in your interior design, black accents are the way to go. A major interior design trend in 2023 is adorning a bright room with rich black features. Black built-in bookshelves against a white living room wall, black frame window interiors in a soft sage bedroom, matte black hardware and plumbing fixtures in a bright kitchen, and a black-stained floating vanity in the bathroom are classic yet contemporary applications.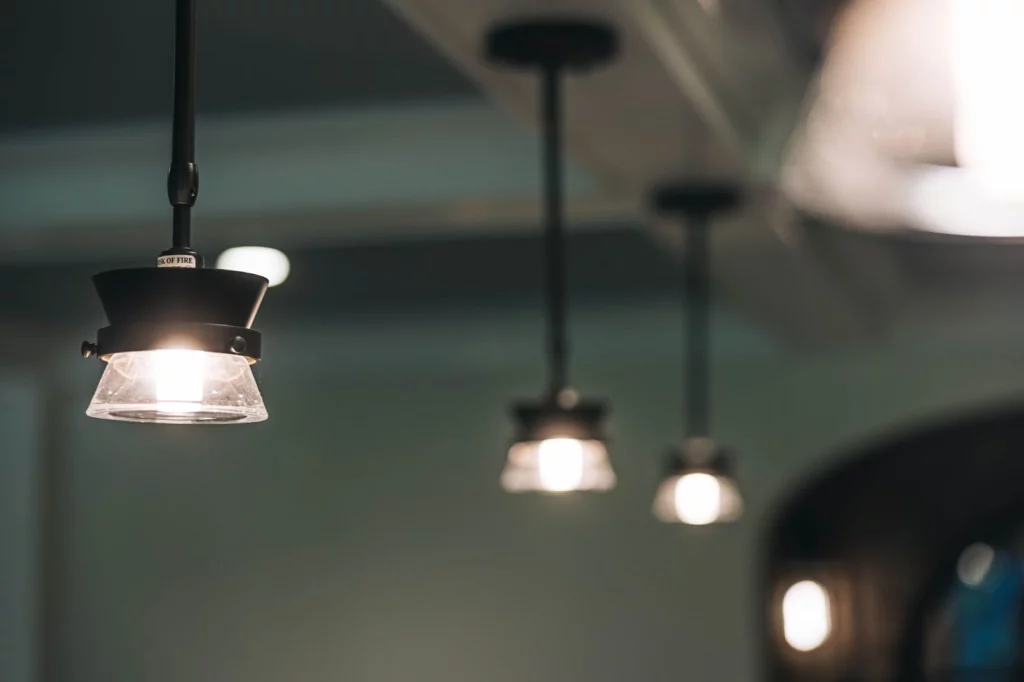 4. Mixing Design Eras
No one fits into a single design box, so neither should your home. Mixing design eras is fully embraced in 2023. Your grandmother's Art Deco waterfall sideboard would look fantastic set behind your 60s inspired curved sofa. Don't be afraid to hang a large mid century pop art painting above your pair of French provincial caned arm chairs.
Art nouveau with contemporary. Scandinavian with Victorian. Mix in a few international pieces as well. The goal is to create a space that's well composed and balanced–but full of personality–so work closely with your designer for guidance as you shop around for your collection.
5. Limewash on Plaster Walls
Limewash isn't like most paints. It sinks in rather than sitting on top of the surface, making it great for porous materials like plaster. Limewash also isn't available in the array of colors typical of house paint, but instead comes in natural, alkali-resistant colors that are available from the earth. Browns, grays, taupe, and its original off-white are most common. Between the mottled texture of plaster and the natural, earth-borne hues, this combination is a perfect match for many other interior design trends, both current and timeless; such as incorporating texture, biophilic design, and the Japandi style.
6. That 'Wow' Moment
The minimalism trend is behind us, but you may not be into the idea of filling every room with color, texture, patterns, and treasures either. However, every room should have its 'wow' moment. The most popular interior design 'wow' moments of 2023 are coming by way of a statement fireplace with a full façade of marble, black-painted brick, or deep walnut cladding. Your bedroom's 'wow' moment could be a wallpapered statement wall behind the headboard. In the kitchen, lean into the 2023 statement backsplash trend for your 'wow' moment. The trick to keeping your moment center is to start with the statement feature and design around it.
7. Selective Minimalism
The stark minimalism design trend of the past couple of decades is out for good, but that doesn't mean some degree of minimalism can't stick around. In 2023, we're seeing minimalism used selectively to balance out some of the other trends on this list–like your 'wow' moment and mixing eras. For example, using picture frame wall molding in an entire space could seem visually busy, but by balancing it will an allover single color on the walls, ceiling, and trim, you're keeping the business under control while indulging in a very sophisticated feature.
8. Details, Details, Details
Once you decide on an overall design aesthetic for your home, or even a single room, zoom in. Details create interest and richness. Every little detail that goes into the design of a home can be notable, rather than an afterthought. Your hardware, molding, lighting and plumbing fixtures, built-ins, and tile patterns should be considered as part of a cohesive whole, yes. But be deliberate in every selection. When you choose minimalistic elements throughout, your space will feel uninspired and lacking in personality. After all, personality-driven design is the name of the game in 2023.
9. Convivial Seating
In 2023, the interior design of your home should be inviting and comfortable. Entertaining at home had a resurgence in the past few years and that desire isn't going anywhere. To keep conversations going and family and friends wanting to stay 'just a few more minutes' to connect, lean into the 2023 furniture trend of selecting pieces meant just for that. Rounded corners, deeper seats, extra throw pillows for support, enough surfaces for everyone to rest a drink within arm's reach, and a furniture layout that's conducive for conversing will create an environment that's comfortable.
10. The Elevated Home Office
Transform your home office into a stylish sanctuary. Custom storage is your friend in the home office, so opt for a wall of built-ins instead of a bulky desk. Embrace natural light with extra windows and enhance the ambiance with statement lighting and personalized touches. Office chair designs have come a long way, so choose one that's comfortable but also stylish. Choose a lively yet non-distracting paint color that will keep you focused, like a rich medium-toned blue.
11. The Jewel Box Powder Room
The powder room, or half bathroom, is the perfect place to indulge. Wallpaper that excites, a striking but petite pendant light, bold fixtures, and a vanity topped with heavily-veined marble will create a jewel box aesthetic that is timeless but also very popular in 2023. Layer colors, patterns, metals, and textures that you may otherwise combine in a larger room. The powder room is the perfect space to have a little fun with decadent opulence.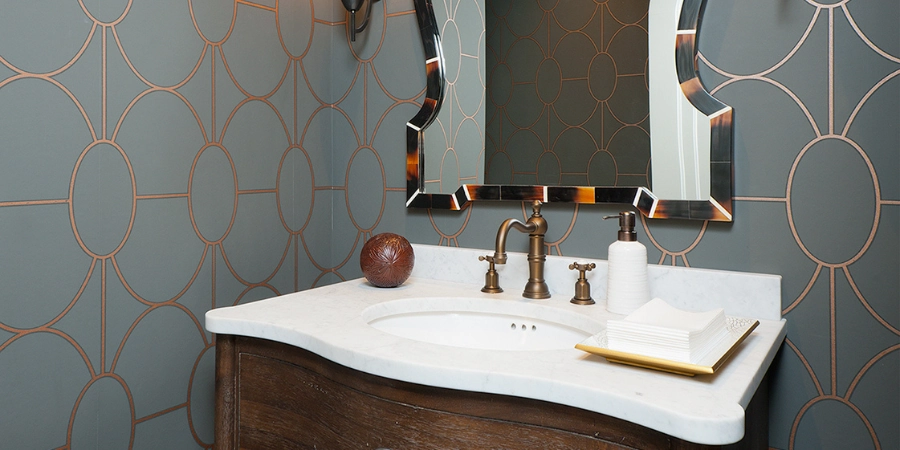 12. Zones
We've all heard the adage, "A place for everything, and everything in its place." Today's modern home is all about organization and really utilizing all of the space you have in an intentional way. Planning a layout with this in mind will reduce unused space, making your home actually feel larger and better organized.
In the kitchen, your imported Italian espresso maker should have its own place with everything you need in one location. If you're an avid baker, your standup mixer, tools, and dry ingredients should live together in a baking station. In the living area, a reading corner should have great lighting, open built-in shelving for your collection, and comfortable chairs meant for lingering. This also includes job-specific rooms, like a mudroom, a sizable laundry room, a butler's pantry, a home office, and a home gym.
How Will You Choose Which Trends Are Right for You?
Lists about current trends are always a fun read, and it's also fun to imagine them in your own space. But how will you know which will work for your Pittsburgh home and which should stay on the cutting room floor? A highly talented professional designer, that's how.
Master Remodelers is a design-build firm that can take your Pittsburgh remodeling project from design through construction, never skipping a beat. Our in-house architectural design expert has helped homeowners create absolutely stunning spaces that fit their personal style for decades. Contact Master Remodelers to schedule a consultation and enjoy the ease that comes with working with a design-build firm that prioritizes your design goals and personal tastes above all else to create your perfect Pittsburgh home remodel.