The tile for your bathroom can be a really fun design detail to choose for your Pittsburgh bathroom remodel! There are so many colors, patterns, and materials, that the options are endless. How do you choose the right tile for your bathroom? Well, start with what's important to you and what suits your style. Is low maintenance and durability most important, or are shape and color?
Safety is an important factor when choosing flooring in a full bathroom. You will also want to choose something that isn't too porous or you risk mold and mildew growth. Not every tile material could, or should, be used in the bathroom. What tile materials and patterns are recommended for the bathroom?
Materials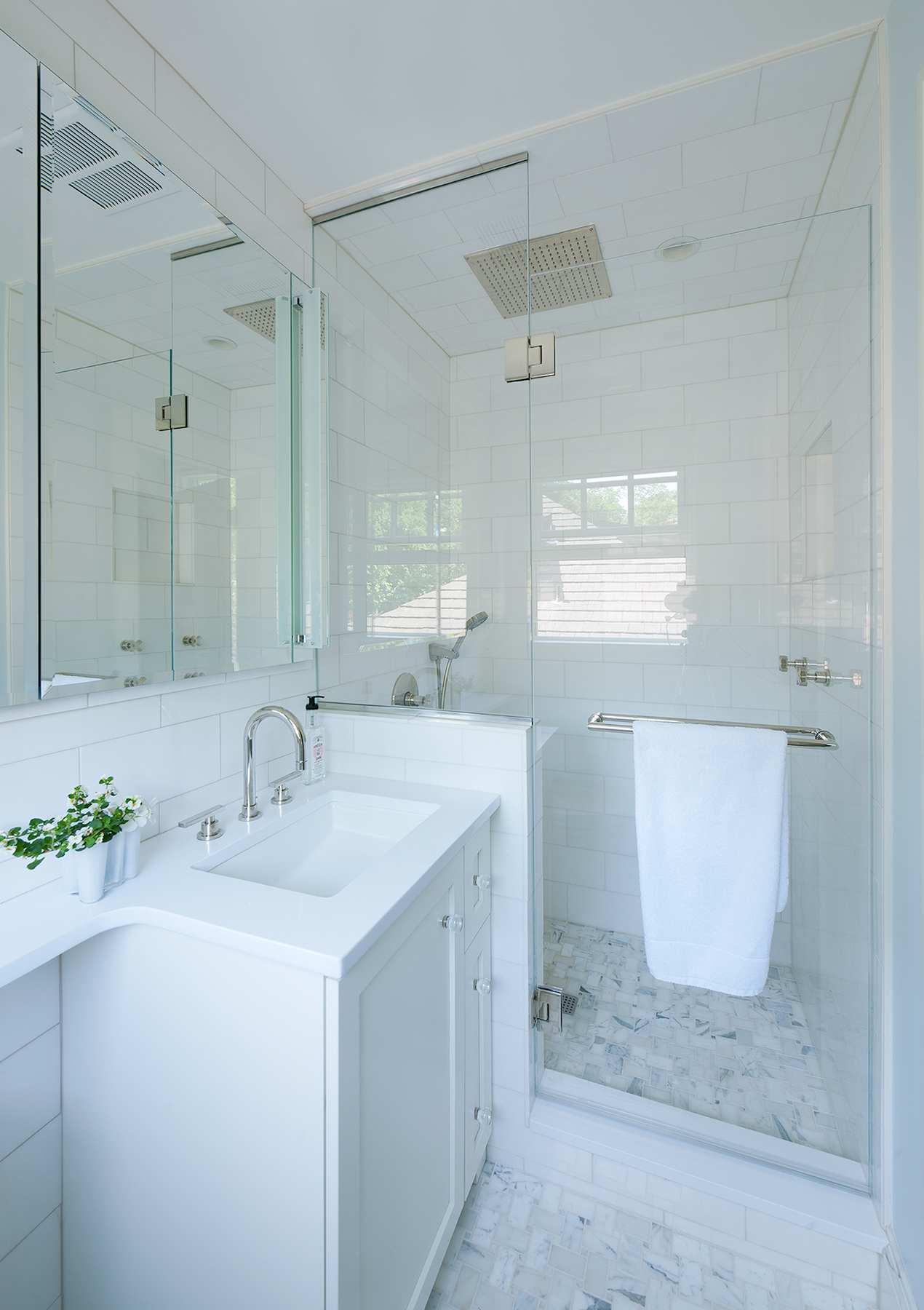 Ceramic and Porcelain
Ceramic and porcelain are available in everything from high gloss to matte, textured to smooth. Choose a tile that mimics wood grain and tone beautifully or one that provides the bright pops of color to an otherwise neutral backdrop, like a large white vanity. Ceramic and porcelain tiles are durable, scratch-resistant, and low maintenance. Porcelain is slightly stronger than ceramic because it's fired at a higher temperature, but both are resistant to germs and can be used anywhere.
Tiles in these materials are available in so many shapes, styles, and colors, you could stop here and find your perfect match. Ceramic and porcelain tiles can be made in an incredible variety of shapes to create the most interesting patterns. Lattice, houndstooth, art deco, Moroccan patterns, and different geometric shapes are all possible.
These materials can be pretty cold to the touch, which is rather unpleasant during colder months. To alleviate this issue, ask your designer about installing radiant heated floors.
They are a worthwhile investment and energy-efficient.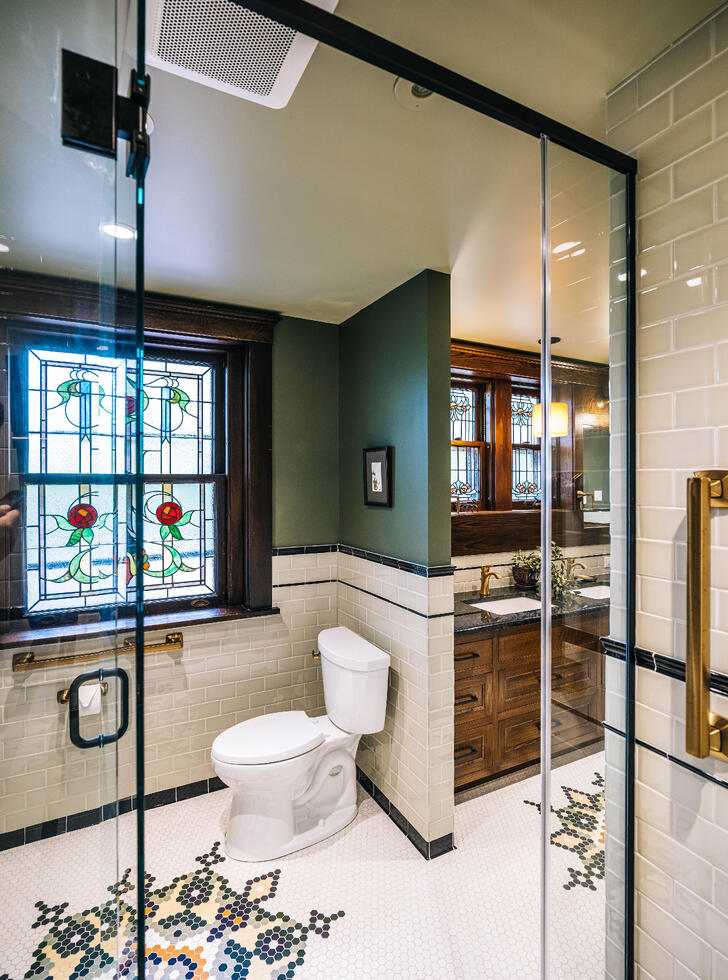 Glass
Glass is a great material for shower walls and counters. Glass is particularly slippery if wet, so only tiles that are textured for the purpose of being slip-resistant should be used on floors. Very small square glass tiles with ample grout can also be used on the floor because the smooth texture of the glass is broken up in a way that doesn't cause a safety issue.
Tinted glass has a way of giving visual lightness to a surface, given that you can see through the material to a certain depth. Glass also reflects light wonderfully, making it a great go-to for smaller spaces where more light is needed. When used along with the parameter of a matte-finish porcelain tile floor, it offers a dynamic aesthetic.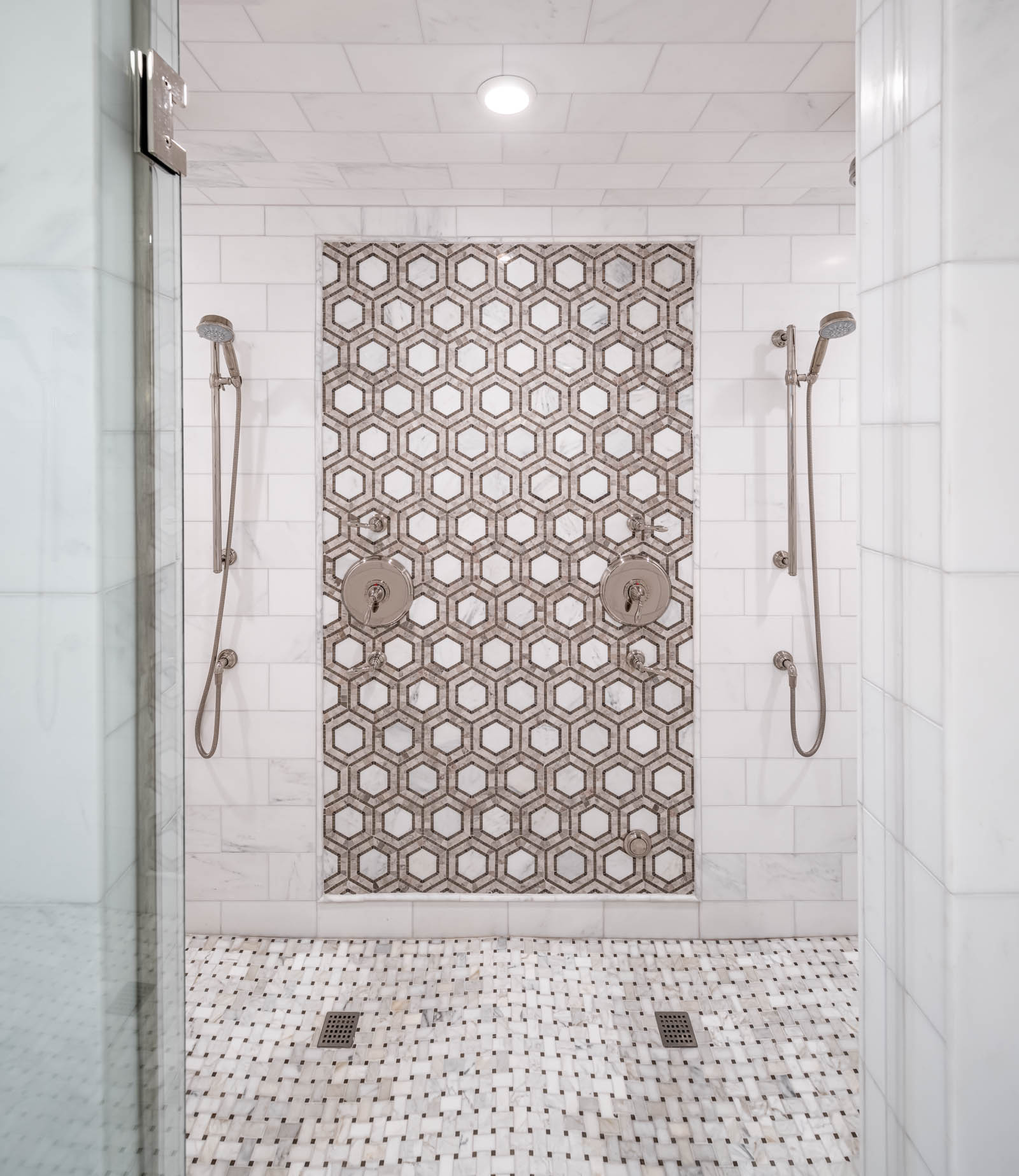 Natural Stone
Stone tile can be made from limestone, marble, granite, slate, travertine, and several others. Each stone varies in color, texture, durability, and cost. Grain patterns in the stone can have several colors on every square foot. Stone is naturally porous, however, and will require more maintenance, like cleaning and resealing. It's also not available in as many shapes and styles as other materials that are factory-made. There are ceramic and porcelain tiles that mimic the look of stone but fall short of some inherent qualities homeowners and designers appreciate about natural stone.
Some stones perform better as a flooring material than others, such as slate and travertine. Others are best used for countertops and shower walls, like marble, granite, and limestone. Of course, almost any material can be manipulated to be more slip-resistant via sandblasting or by using mosaic-sized tile so that the small size and grout make for a slip-resistant surface.
Pair stone with another material to create interest, like the deep blue-gray of slate with white glass tile. The juxtaposition is striking but sophisticated. Or create variation by using different shades of the same stone, such as alternating darker and lighter gray marble in a basket weave pattern on the shower floor. Incorporate wood grain porcelain tile on the bathroom floor with travertine in the shower for an unexpected and warm combination.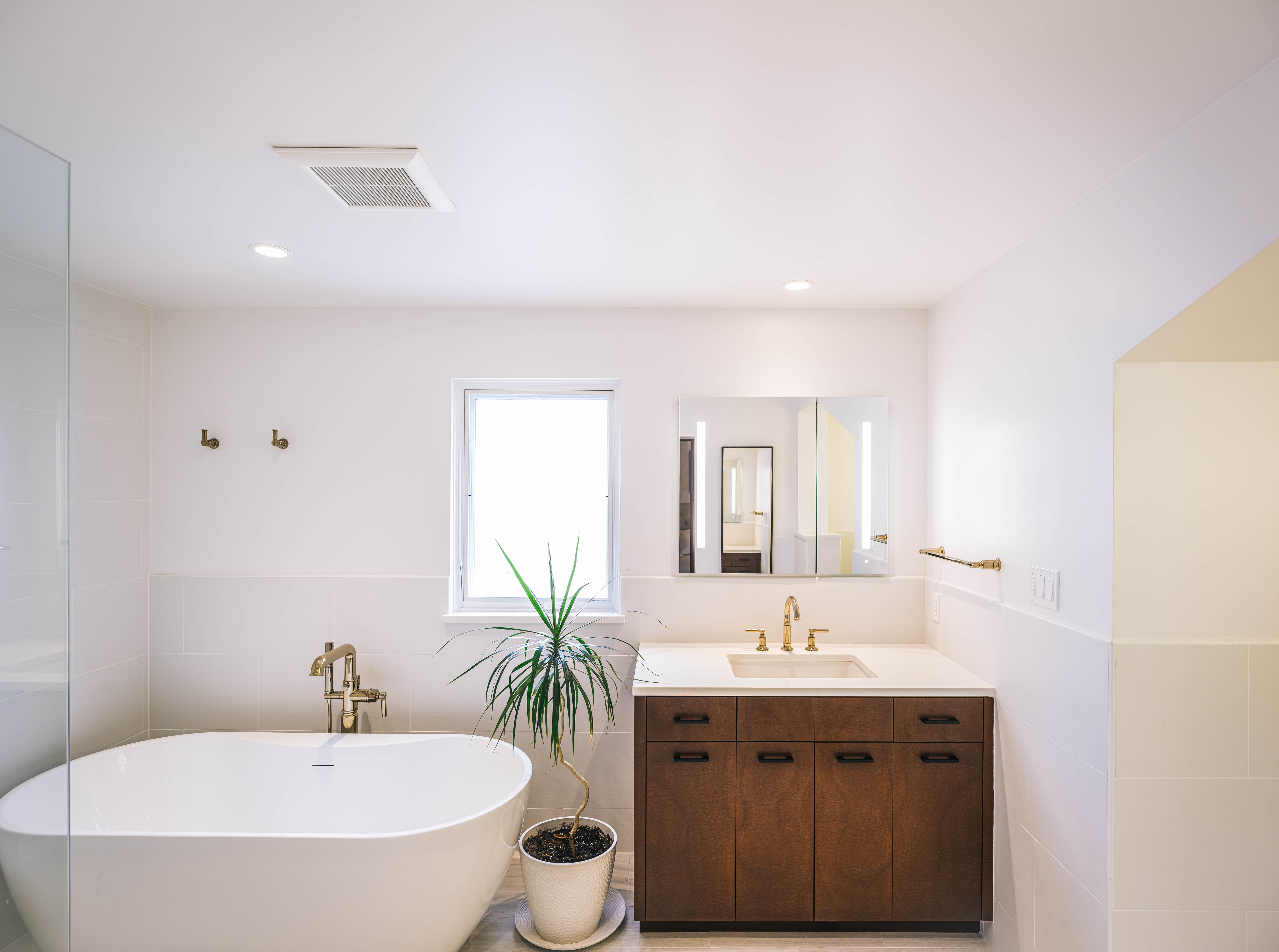 Shapes and Patterns
Tile comes in so many shapes and patterns, that it can be both exciting and overwhelming to choose. With patterns that are busy and incorporate two or more colors, consider concentrating the pattern on a smaller space in your bathroom. The back wall of your glassed-in shower is an excellent space for this application. The patterned tile can be framed by a neutral tile to really draw the eye. Another way to incorporate pattern modestly is by having the patterned tile act as a sort of runner on the floor in front of your double vanity. Have a coordinating tile line the parameter of the runner tile for a polished look.
Aside from choosing tiles that each boast its own pattern, patterns are often made by alternating the color or shape of the tiles as well, and usually in ceramic, porcelain, or glass. Geometric tiles that come in shapes such as diamond, rhombus, hexagon, and more, can be coordinated and laid in a way that is very striking, can appear to create 3D shapes, and be the focal point of the room on their own. Some geometric tiles tend to follow the latest trends, which may mean you will be retiling once the trend passes.
Penny tile is a classic bathroom staple that dates to the 1920s. Traditionally, you would see this tile in all white or dotted with little groupings of black penny tiles that take the appearance of small flowers. Nowadays, penny tiles are available in any color and finish and are a very charming and agreeable addition when used as flooring and paired with larger slabs of stone or subway tile on the shower wall, for example. Penny tiles are one of the best tiles for shower floors because the small shape and grout proportion make them a slip-resistant choice.
Hexagonal tile comes in a wide range of sizes, making it quite versatile. Larger tiles on the floor or shower walls can stand on their own, while much smaller sizes can be used in the same way you would penny tiles. The shape can be very bold when the tile and the grout are contrasting tones, such as a dark tile and the typical light gray grout, or it can be more subtle when the grout and tile are similar in color.
Ask A Trusted Designer
Remodeling your Pittsburgh bathroom should be an experience that leaves you excited, not stressed or anxious. Find a design-build remodeler that is willing to listen to your design goals and help direct you to the best options that will get you there, and within your budget. Whether you're remodeling your bathroom to increase your home's value or to update your personal oasis, Master Remodelers is a top Pittsburgh design-build remodeler that knows a thing or two about style and sustainable construction. Our in-house award-winning architectural designer has decades of experience creating beautiful spaces with the homeowner's style and vision kept at the center of the process. Contact Master Remodelers to discuss your bathroom remodeling goals.