Luxury custom features improve not only the quality of your home but your quality of lifestyle. Whether you prioritize the highest level of comfort, safety, sustainability, entertainment, or all of them, these features are the most sought after in elite custom luxury design. The value of a home remodel is reflected in where you invest, and these features should take priority.
1. Smart Home Systems
Technology in the home today goes far beyond a Bluetooth sound system or a smart refrigerator. Your whole-home smart system can be used to control automatic temperature adjustment, lighting, security and safety, and entertainment through your smart device via an app. Home automation is a highly desired luxury home feature, offering the epitome of lifestyle, convenience, and comfort.
By using a high-end custom home system that learns your routines, your thermostat can adjust the temperature of your home based on your typical schedule. Your curtains or blinds can be automatically drawn and shut-in accordance with your schedule as well. Easily readjust these settings when the timing no longer suits your needs.
Door locks, smoke detectors, security cameras, and motion sensor lighting are just a few of the security and safety features a whole home smart system can control. Checking your security cameras while you're away or double-checking you've locked the door through an app makes keeping an eye on your luxury home nearly effortless. Monitoring your luxury home while you're away is not only convenient but offers invaluable peace of mind.
2. Luxury Bathroom Retreat
An increasingly common feature in luxury custom homes is the spa-worthy bathroom retreat. In keeping with a whole-home smart system, today's bathrooms feature technological innovations that elevate everyday routines. From floor to ceiling, there are curated features for every part of the bathroom. Heated floors, steam showers, programmable shower sprayers, waterproof Bluetooth shower speakers, and layers of adjustable lighting are some of the most popular luxury bathroom features.
As for fixtures and finishes, the more custom and high-end, the better. Specialty tile, a one-of-a-kind double vanity, and a sleek freestanding tub will give your bathroom that exclusive feel of a five-star spa retreat. Not to mention, if you plan to sell your luxury home, a high-end bathroom retreat is a feature with an excellent return on investment.
3. Designated Rooms
The home office is already a must-have in any home today. However, in luxury homes, rooms meant just for fun elevate the home experience in a whole new way. Theaters, game rooms, craft rooms, and libraries are all common examples of designated spaces to indulge in your favorite activities. The low-light nature of a basement, for example, is an excellent space for those activities that benefit from little to no light. Both a home theater and a wine cellar are perfect options for this space. As for rooms with ample light, like in a corner of the home, these are ideal spaces for reading and crafting.
Think beyond these go-to designated spaces and consider other favorite pastimes. Home gyms, outfitted for weightlifting, yoga, or dance, are an excellent addition to your luxury home. Perhaps even a room dedicated to your love of music with soundproofing and plenty of space for instruments or a high-end sound system for your record collection that can be controlled from your smartphone.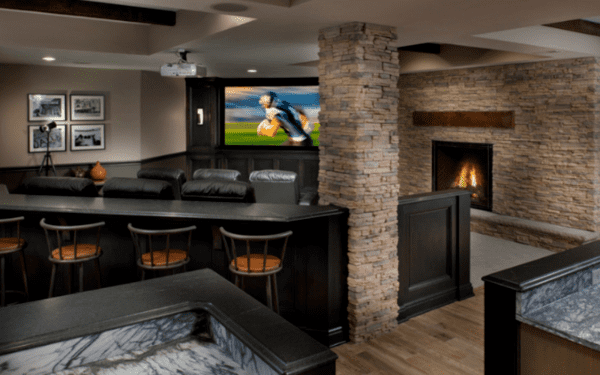 4. Dressing Rooms
The dressing room is a luxury custom home upgrade from the walk-in closet. With the square footage of a small bedroom, a dressing room is spacious enough for any custom storage feature you desire. Display shelves for your shoes, divided drawers, upper and lower hanging space as well as hanging space for longer items, like dresses, are just a few of many storage options. An ottoman or a closet island with countertop space for jewelry and a secret jewelry safe beneath is an excellent way to take advantage of the space in the center of the room. Be sure to invest in excellent lighting and an oversized mirror for your dressing room as well.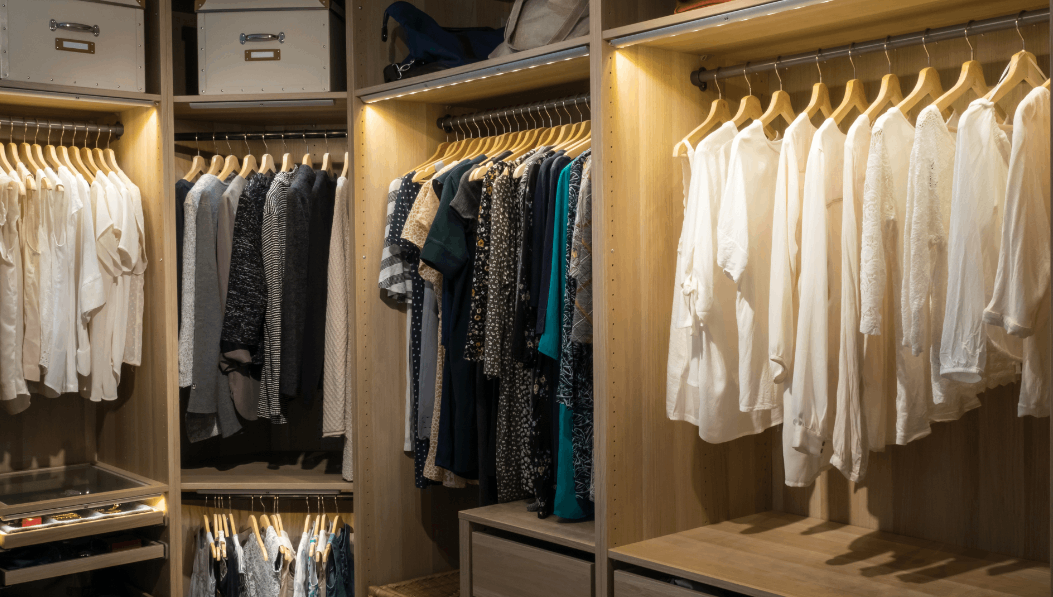 5. Outdoor Kitchen and Bar
Entertaining at home has grown in popularity over the past couple of years, making outdoor cooking and dining spaces a must-have in custom home design. Include high-end appliances and materials that are fit for your luxury home. Be sure to avoid the same common design mistakes seen in indoor kitchens. Start with standard amenities, such as a built-in grill, a stainless steel sink, and a gas stove. Make your outdoor cooking and entertainment space a haven with custom features, like a brick oven, a pergola, a beverage refrigerator, or even beer taps.
As for the outdoor living space, including a full bar with ample seating, a sink, minifridge, an icemaker, and storage that makes sense to your lifestyle. Materials can range from teak wood, for an intentionally relaxed feel, or granite and concrete, for a more sleek design. A dining table along with a comfortable lounge arrangement, complete with a fire pit, round out the entire luxury outdoor space.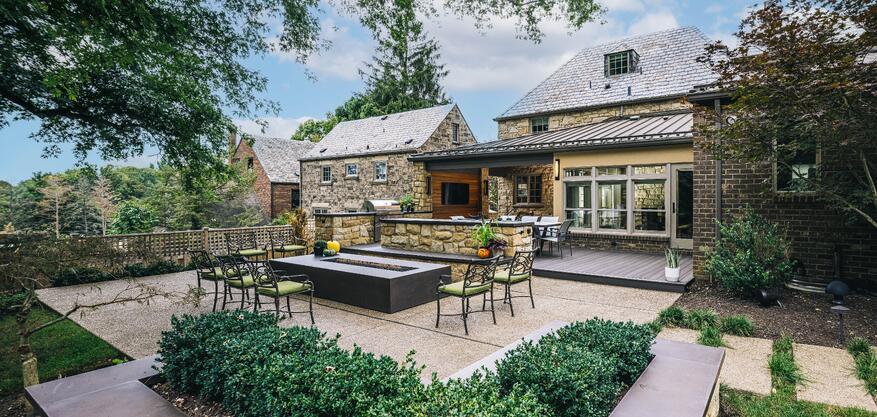 6. Sustainable, Healthy, and Eco-Conscious
Designing a custom home with sustainability in mind no longer means compromising on style or luxury. For example, utilizing repurposed materials brings a rich and layered aesthetic to a custom home you won't find with many newly sourced materials. Using large repurposed beams against a crisp white ceiling or reclaimed stone for your outdoor kitchen is not only keeping materials out of the landfill but offers your custom luxury home a highly sought-after warmth that can't be manufactured. Other reclaimed material applications include hardwood flooring, vintage furniture repurposed as a bathroom vanity or kitchen island, and reclaimed solid wood doors and floors.
As many of us have spent much more time in our homes over the past few years, building healthier homes has become a priority. Air quality is a major concern, with newly built home pollution levels ranging from two to five times worse than outdoor pollution levels. To reduce your indoor air pollution, choose low VOC or nontoxic paints, invest in vintage or high-quality furnishings and fixtures meant to last, and select a high-quality air purification system.
Energy efficiency is a huge factor in sustainability. Solar panels have been a go-to in energy efficiency for quite some time, however, there are many other ways to incorporate efficiency in your luxury Pittsburgh home. Heated floors, water-conserving fixtures, LED lighting, triple-paned windows, and optimizing your home's orientation to the sun all work to use significantly less energy.
Your Custom Luxury Pittsburgh Home
For more than 30 years, Master Remodelers has been specializing in highly curated home design and remodeling. Contact us to discuss the luxury features you would love to incorporate into your luxury custom home project and to learn about how long the remodeling process may take. We dedicate ourselves to transparency, clear communication, and the highest standard of professionalism.