What are the big design trends hitting the Northeast this year? The interior design trends of 2023 are all about personalized and sophisticated luxury. Find out what this means for every room of your home with advice for how to use them to create high-end spaces that are timeless and tasteful.
1. The Luxe Home Retreat
Spa bathrooms have become a huge trend over the past few years. In 2023, the retreat-like atmosphere is spreading to the rest of the home. And why not? When we're home, it should be our time to relax, unwind, and feel refreshed and recharged.
What does a home retreat look like? It's a luxe place full of colors and textures that elicit calm and joy. It's a home full of natural light during the day and soft ambient lighting in the evening. Think of your favorite places you love to escape to and bring that place right into your own home.
This 2023 trend is incredibly personal, so you'll want to work closely with your designer to find out what makes you feel cared for and refreshed. It could be soft and warm tones on the walls or rich jewel tones. It could be wallpaper above wainscotting in the primary bedroom that's teaming with tropical foliage and natural wood built-ins in your bedroom's sitting area.
Our tip? To ensure a home that feels like a retreat, include a lot of convenient and custom storage. There's nothing about clutter that feels like an at-home retreat.
2. Wellness Rooms
In keeping with the home retreat trend, wellness rooms are on the rise in 2023. This trend builds on the increase of home gyms in the past few years and takes it to a place that focuses on mental and emotional health in addition to physical health. A more thoughtful approach to holistic health is the wellness room, which doesn't only focus on equipment and function, but also how the space makes you feel when you spend time there, as well as facilitating other physical activities that go beyond your elliptical and lifting weights.
In your wellness room, what would bring you comfort and peace? If you typically roll out your yoga mat at the foot of the bed every morning, relocate your practice to its own space. Think about the color palette and natural light. Perhaps in-floor radiant heating would make this space more comfortable for your daily restorative yoga routine during colder months. And who says you can't have gorgeous lighting in your wellness room? Include dimmable sconces or a statement chandelier. There are no rules in your personal space for overall wellness.
3. Sophisticated Luxury
Luxury doesn't mean gaudy or glam, but thoughtfully designed details and high-quality finishes. Sophisticated and refined luxury focuses on every part of the design of your space done with the intention of timelessness.
Sophisticated luxury is also about layering with restraint and a calculated use of texture. Picture a coffered ceiling in the living room with long-lasting hardwood floors in a rich tone, built-in bookshelves with patterned wallpaper within, thick woven drapes that stretch to the floor, a long velvet sofa, and custom variable lighting. Every detail is accounted for with nothing left as an afterthought.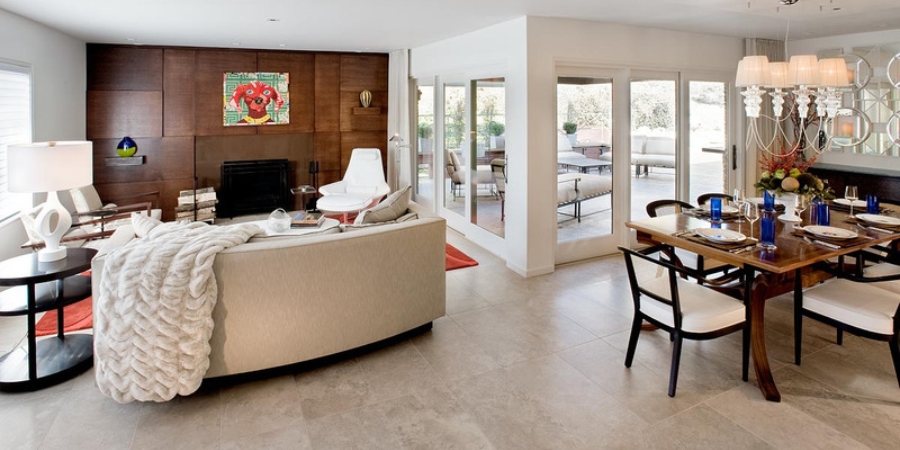 4. Architectural Features
Archways and alcoves had a strong comeback in 2022. In 2023, they're being joined by even more architectural details that play into the sophisticated luxury trend. Imagine custom-milled window and door casings, and even decorative pediments over your interior doors. To keep them understated, paint the trim and pediments the same color as your walls.
Statement ceilings, large but tasteful fireplace mantles, wainscotting, ceiling medallions, picture rails, and built-ins are a few examples of architectural accents that will add personality to your home. Use them wisely so as to not visually crowd your space.
5. Jewel Box Powder Room
The jewel box powder room is back! As we continue to leave behind stark gray and white bathrooms, we welcome bold prints and deep jewel tones, especially in smaller spaces like the powder room, or half bath. One major component of this trend is standout wallpaper. What's great about the half bath is that the space is compact, so using wallpaper with bold colors and striking patterns doesn't overwhelm. For the powder room, you can be far more adventurous with your choices than a larger room.
You can get adventurous with every detail in the jewel box powder room. Create an anchor wall behind the floating single vanity with 12 x 3 subway tile laid vertically, from floor to ceiling. Choose a bold pendant light to hang overhead. Don't forget the ceiling–continue your wallpaper here, too. Or, choose a rich color from the wallpaper to paint your ceiling. Finish the space with a stylish designer plumbing fixture and a framed mirror that can hold its own.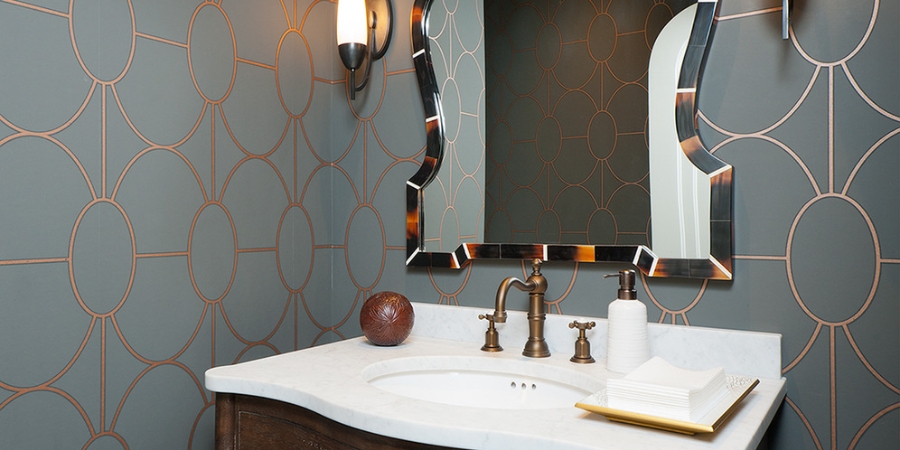 6. Reimagined Dining Rooms
Dining rooms are making a big comeback in 2023 home remodels. However, we're not talking about the completely closed-off dining room with one or two small points of entry. The reimagined dining room still plays into the open floor plan, but with a clearly designated space that feels cozy, like a dining room should. This is a pivot away from your dining table planted right in the middle of your open floor plan near the kitchen or on the opposite side of your island, below a lonely statement lighting fixture.
Create a tucked-away space that's framed by an archway. Walking into this space should be a clear transition from the rest of the open floor plan but retain sightlines to other parts of the main living space. Frame your archway in luxe trim to further differentiate this intimate space and choose a different paint color for the walls.
7. Softened Minimalist Kitchens
The dramatic swing from the all-white kitchen to highly personalized spaces with lots of color and texture was a little too drastic for many. If this sounds like you, the softened minimalist kitchen could be the answer. It blends the stark minimalism in the kitchen we saw for the past 20-plus years and softens it to become more warm and inviting. It's a tempered design that feels sleek and sophisticated but a far cry from cold and sterile.
The idea is to take some of the elements of the highly minimalistic elements of the past and blend them with subtly contrasting elements to ground them. Flat front soft white cabinets with white marble countertops and slab backsplash can be offset by a natural wood island with a butcher block. Reclaimed beams are also perfect with this trend, as is an exposed brick wall or natural wood open shelf accents. You can also communicate softness with an unexpected wall color, like the 2023 trending mauve tones.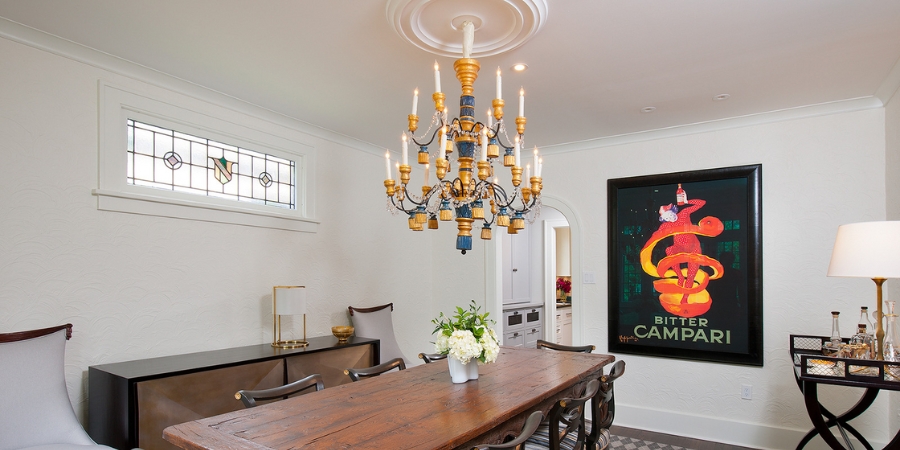 8. Textured Tile
Textured tile can go a long way in introducing just enough style into a space to feel intentional and interesting. It gives the impression of being handmade, and in many cases they are. Textured tile plays into the luxury trend in that it feels custom rather than mass-manufactured. Hand stamped subway tile comes in lots of different textures, like ribbed, with no two tiles exactly the same. Wavy square tiles with slight variations in color are perfect for the shower wall. For a more contemporary feel, choose tiles with a slight geometric three-dimensionality.
Get a Luxury Space with a Luxury Remodeler
Not just any remodeler will have the experience and design knowledge to pull off the sophisticated luxury trends of 2023 for your Pittsburgh home. The trick is to also choose design elements that communicate timelessness, so your space will continue to be stylish for several years, rather than just a few.
Master Remodelers is an award-winning high-end remodeler with an architectural designer on staff. This sets us apart from standard design-build firms, and you can see it in our work. To experience the ease of the design-build method with the high-end design skills your space needs, contact Master Remodelers and schedule a consultation.