Remodeling a kitchen is usually borne from necessity; but a kitchen remodel is an opportunity to create a hard-working space that's brimming with luxury, top to bottom. Your luxury kitchen remodel offers opportunities in every detail. What should be in a luxury kitchen? We have the top ten high-end kitchen remodel ideas that will make your kitchen more luxurious, useful, and enjoyable.
1. Butler's Pantry
Today's luxury kitchen remodels are harkening back to the days of the butler's pantry. It's the perfect solution to much-needed additional storage without overwhelming the kitchen itself with cabinets upon cabinets. It's a great place to stow away the convenient appliances you might not want in the main kitchen space–like the microwave, bread warmer, and ice maker. It's also a great place to store your serving ware, silver, and other items that aren't used daily but need to be kept nearby.
A luxury butler's pantry can be a place to get creative, design-wise. It's just out of sight but attached to the kitchen, so the finishes you choose can coordinate but they don't need to match. Use a wood tone or paint color on the cabinets that are more trendy than timeless, for example.
A modern black kitchen might be intimidating in the main space; but in the butler's pantry, it's fresh and has just enough color to be adventurous without being overwhelming. If you have mixed metals in the kitchen, choose one tone for the cabinet hardware in the butler's pantry. Mixing in a small space could look more cluttered than curated.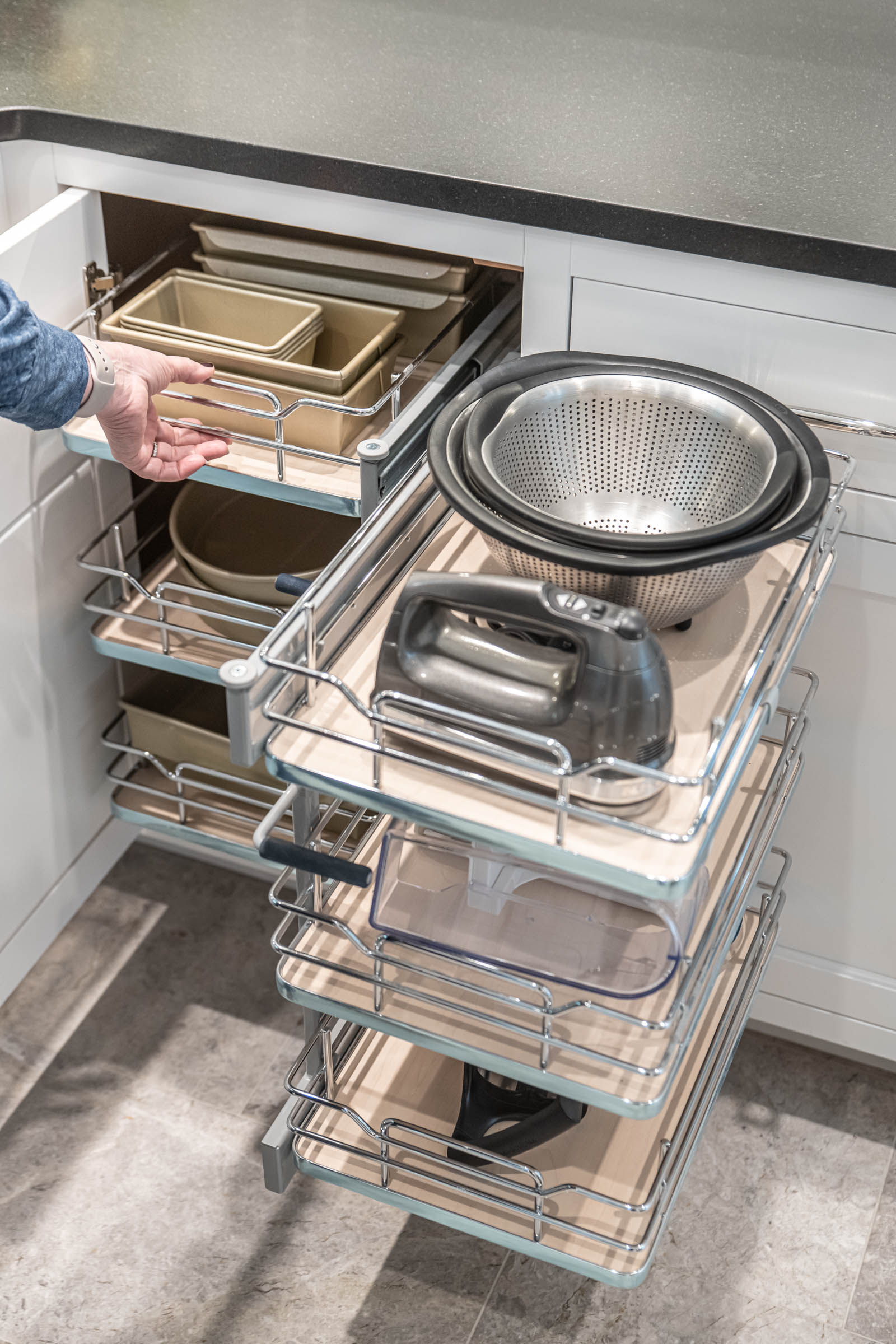 2. Double Kitchen Islands
One of the most popular luxury kitchen remodel ideas is the double kitchen island. The benefits of having the extra surface and storage abound, making this grand feature also very practical. Typically, you'll see the islands positioned parallel to one another, with seating on the outer island. The inner island will usually offer space for a second kitchen sink, perfect for a family that makes cooking a shared activity rather than a solo act. Or, for an entertainment-centric home, the second island is ideal for setting out a buffet-style spread without taking up precious prep space.
High-end double kitchen islands will usually do the same materials throughout, with each island having the same paint colors and marble cut from the same slab.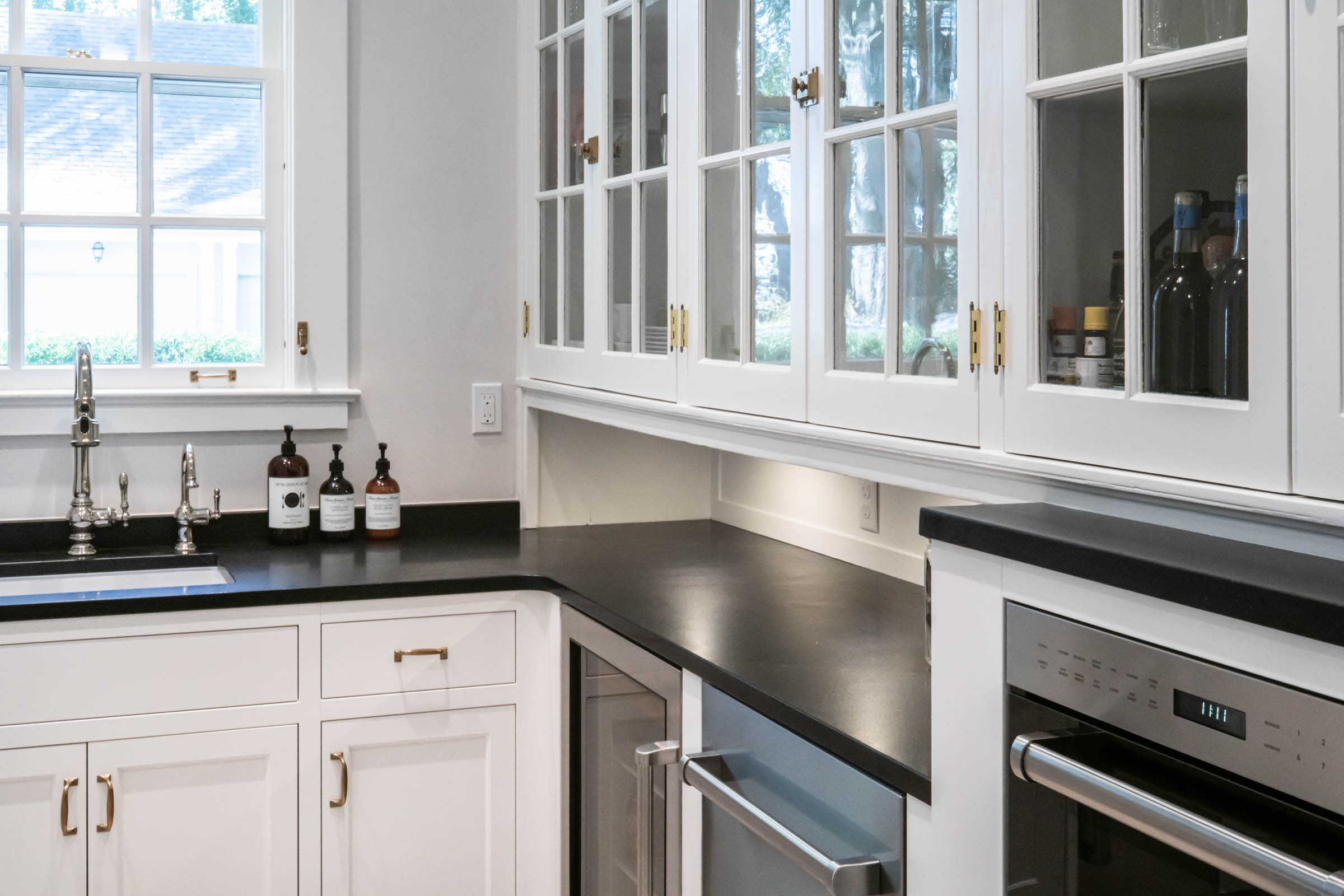 3. Custom Cabinets
Custom luxury kitchen cabinets are a must-have in kitchen remodeling plans. Storage needs are specific to the home, so work with your designer to distinguish what configuration and components of storage options would suit you best.
Truly custom cabinetry consists of placing exactly what you need where you need it. Add outlets concealed behind panels in your island, pull-out drawers with plate dividers, and slide-out shelving tucked behind lower cabinets, and have a blend of glass-front and shaker cabinet doors to show off your collections where you want to and conceal daily necessities where you don't.
High-end kitchen cabinets can be made more custom with coordinating colors rather than all white. For a modern twist, consider black or an ebony stain on the perimeter cabinets with a white island topped with heavily-veined marble. Pair with either brushed gold or brushed chrome cabinet hardware to tie the room together.
4. A Signature Sink
With how much time we spend at the kitchen sink, it should be a thing of beauty rather than just utility. Apron front basin sinks are often seen in white porcelain but are also more currently popping up in copper, hammered, or smooth. Pair copper with a matte black or copper high-arc gooseneck faucet for a distinct look. Porcelain benefits from pairing well with any metal tone. These generous fixtures are also available with sweeping floral or geometric patterns on the apron that look custom and stand out.
5. Hardwood Parquet Flooring Patterns
In your luxury kitchen remodel, incorporate the beautiful timelessness of parquet hardwood flooring patterns that go well beyond the standard running installation layout. Herringbone, Versailles panels, chevron, and mansion weave are the top parquet flooring patterns that offer an interesting backdrop to a chic and clean kitchen aesthetic.
The mansion weave, named for its popular use in grand palatial homes, has been around for centuries and is making a big comeback. The pattern is interesting without being busy and looks fantastic in any type of wood grain and tone. Consider different grains and tones to create a striking pattern for your wood floors in the kitchen. Versailles, on the other hand, is more intricate, lending well to darker wood tones to calm what could read as "busy" otherwise.
Chevron and herringbone offer a similar diagonal pattern, but herringbone has a broken zigzag pattern, whereas chevron planks have to be cut on the diagonal. These patterns offer a slightly more modern feel than the others.
6. Spectacular Lighting Fixtures
As stark minimalism exits stage left, opulent luxury in strategic and restrained doses is taking center. In the kitchen, this includes statement high-end lighting fixtures across all style genres. Adorn your luxury kitchen with modern, understated high-end pendant fixtures, a contemporary linear globe chandelier, a grand traditional crystal chandelier, or an old-world-inspired iron ring chandelier. The options are endless.
Kitchen chandeliers are the epitome of luxury lighting. They can coordinate with more practical lighting needed in the areas you need it most, like over the sink and under the cabinets. The most common area where a grand lighting fixture is placed is over the kitchen island. Depending on the size of your kitchen, hang two side-by-side. Or, for an open floor plan, hang one over the island and another over the dining table.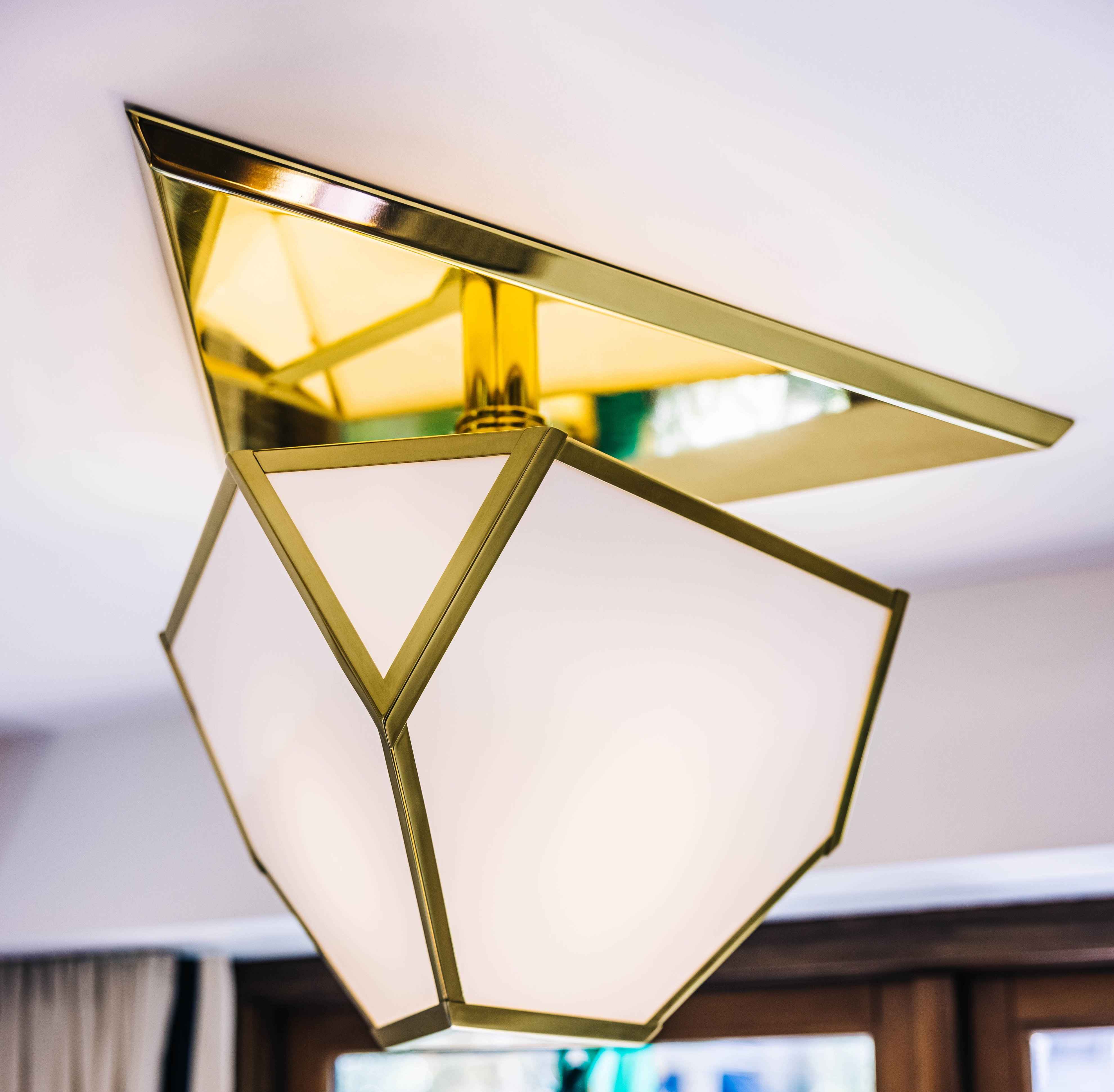 7. High-End Kitchen Appliances
The chef-worthy kitchen appliance is nothing new, but chef-worthy kitchen appliances that are high-end and gorgeous are and they're available with more to offer than ever. Custom colors and accents are what luxury kitchens are meant to be filled with and the latest ranges offer just that. Picture a soft seafoam green with gold or chrome knobs, handles, and detailing in an all-white kitchen with custom tile and you'll see what we mean.
Perhaps you'd rather go classic with stainless steel. Mix it up with mixed metals, like stainless and brass, paired with a coordinating oversized professional-grade hood and you'll have an impressive statement piece. As for the refrigerator, go big with a double-door unit. Cover the refrigerator in custom panels to match your cabinetry or lean into the professional look and show off the stainless steel that matches your other stately appliances.
8. Pot Filler Above the Range
Nothing says "luxury epicurean" quite like a pot-filler above your professional-grade range. Besides the high-end look a pot filler offers, it actually comes in quite handy. It's useful for filling large pots that are too big for the kitchen sink and reduces accidents when you're transporting a full pot from the sink to the range.
It's also a great second water source if your kitchen only has one sink. Filling your watering can, tea kettle, coffee maker, and water bottles are just the start. And, with pot fillers on the rise as a luxury kitchen convenience many homeowners are seeking, the variety of styles and metals they're available in makes it easy to choose a faucet that matches the rest of your kitchen.
9. Custom Zones
Your kitchen should be as unique as you are. You've gone through the extra design steps of choosing finishes and appliances that reflect your tastes, so why not create zones that do the same?
If you're a coffee aficionado, have a small space to dedicate to a high-end European espresso machine and all of the accouterments. If more modern appliances are your style, have your smart espresso maker built right into the cabinetry.
Or, if mixology is your passion, have your designer create a compact bar right off of the kitchen for all of your spirits, glassware, crystal, mixers, and bar tools. Don't forget to include an ice maker and a mini refrigerator in the space as well.
10. Seamless Transition to Your Outdoor Kitchen
The benefits of having an outdoor kitchen are plenty. Add one more by making the transition from your indoor to your outdoor kitchen by incorporating a retractable wall of glass door panels. This creates one large space where accessing anything you might need from your indoor kitchen is a breeze. To pull this off, carry the more weather-resistant finishes you've chosen for your kitchen to your outdoor kitchen, such as the metals, ceramic tiles, and wood tones.
With the two spaces acting as one when you retract the panels, you'll find that doubling up on some features won't be necessary, like the oven or pantry, for example. Take advantage of temperate months, double your seating capacity, and feel more connected to party guests when entertaining outdoors.
Your Luxury Kitchen Remodel in Pittsburgh
No need to get overwhelmed by all of the luxury kitchen remodel ideas that are out there. Look to your designer and custom builder to guide you in deciding what your custom luxury kitchen should include that would suit you and your family best.
For high-end kitchen designs and inspiring ideas in Pittsburgh, look to Master Remodelers. Our in-house architectural designer and skilled team of building experts have decades of experience designing and creating impeccable spaces that range from timeless luxury to high-end modern flare, and everything in between. Contact Master Remodelers to schedule a personalized consultation today.