There is an undeniable synergy of entertainment and utility in this open floor plan design. In addition to creating storage and functional efficiency and aesthetics, the renovation corrected structural issues. Gorgeous, full-view windows and doors open up to a lush and private backyard and deck.
This project is the winner of Pittsburgh Magazine 2018 Best Outdoor Design and Build, integrating the best of a home's interior with the exterior.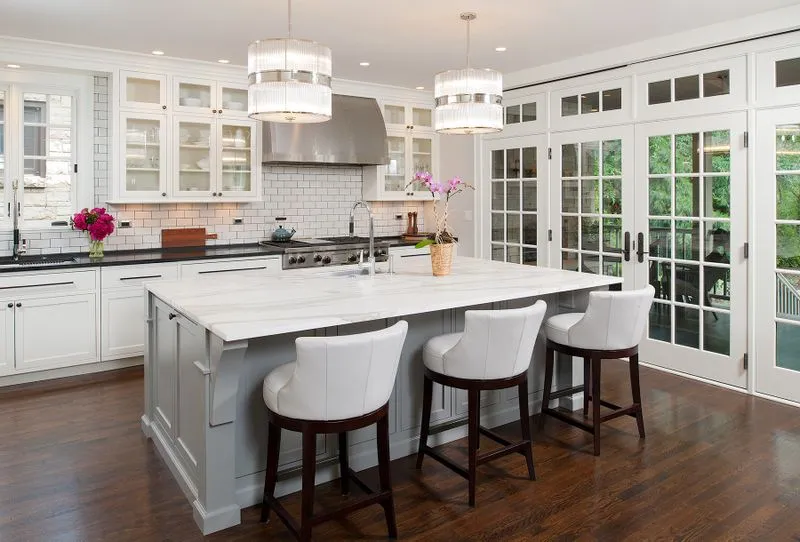 Larger kitchen
Better flow of space
More user-friendly rear entrance from garage for daily use
Easy access to basement
Eliminate water problems from existing basement exterior door
Keep antique furniture & fixtures from Europe where the client resided
Keeping original architectural integrity of styling while introducing contemporary details and an open floor plan
How to create privacy in porch area
Design of the roof for addition so as to accommodate existing second floor's windows
Limited back yard space at driveway
​Mudroom location and design with elevated main floor
Create a cozy seating area with exterior fireplace position on side of porch to create privacy.
The first-floor renovation started with removing a powder room adjacent to the staircase to create a direct pathway from the front door to the new kitchen/TV room.


The dining room and formal living room underwent cosmetic enhancements, while a Butler's pantry was created to compliment the kitchen and new powder room which replaced the old one removed near the steps.


New Marvin windows throughout the home make a big impact along with wainscoting and hardwood floors.
Removed existing stone veneer on the interior fireplace in the living and installed panelized fireplace architrave with slate surround and hearth. New built-in bookcases flanking the window seat and new fireplace molding made the room bright with clean lines producing contemporary flare that resonates well with the home's traditional style.
Get Started With
Master Remodelers Today
Get the latest from Master Remodelers. From helpful home tips to project showcases;
we promise this is worth a look